Disclosure: This page may contain affiliate links.If you click on them we may earn a small commission.If subsequently you make a purchase, we might earn a little more.As an Amazon Associate we earn from qualifying purchases.There is no cost to you.see
Our Disclosure Policy
for more info.
Culinary Launchpad L'Academie de Cuisine  Closed in December 2017
Travel the ocean, learn culinary tips and techniques, enrich your cultural quotient -even win a sweepstakes. Have you joined the Navy? No, you have not. You are a student at L'Academie de Cuisine, where a three-hour "lesson" under presiding Chef Francois Dionot's tutelage is pure dinner theater entertainment. Here is a place where you really can -pardon the cliche- have your cake, eat it too, then make it at home tomorrow.
In three hours, you'll learn how to pick an artichoke for its size, rose-like qualities and weight. You'll discover how to cook like a professional, the major difference between electric and gas heat, and why "white wine vinegar is the lemon juice of the poor." You may win a discount ticket for a future cooking class if you correctly answer questions such as the following: "from what French regions does chardonnay originate?" (Answer: Burgundy and Champagne.) And kitchen-shy cooks will relax when they hear such stories as Dionot's garbage disposal fiasco.
"In 1976 when I opened the school, I put the artichoke leaves down the disposal and promptly called the plumber. I took them home to our new condo and forgot to tell my wife not to put them down the disposal. She did. We had to call that plumber twice in one day."

Dionot entertains his audience throughout the lesson. He knows how seriously a true chef must perform. "The food business is a show," he claims. "Running your own restaurant means running your own show. Your guests are celebrating, and entertaining. They want a good meal. They are happy people. Your job is to let them leave with a larger smile than they had when they came in. It's an instantly rewarding business. How's that for gratification?"
Apparently, it is enough. For 20 years, l'Academie has gratified those serious about learning both the art and science of cooking. And it has been gratified in turn by Washingtonians' ever-increasing interest in culinary arts. The school has come a long way since Washington's high society ladies attended demonstrations in their chauffeur-driven Mercedes and Jaguars. "When I first opened the school in June, La Varenne had just opened in Paris with Anne Willan. Those who didn't go there discovered this chic thing to do in Bethesda. The ladies came in my classroom spouting diamonds the size of hazelnuts. I would do a demonstration to echoes of 'oh! This is splendid! I'll have to tell my chef to do this tomorrow!'" Yet this very experience gave Dionot a stage on which to learn how to teach and entertain. Today, l'Academie's staff and client list still reads like a Who's Who in Washington, but it operates in a distinctly sans-chichis environment. Two locations offer vocational and professional cooking classes to 4,200 students a year. Nestled in the suburb of Bethesda, the original "schoolhouse" has a 30-seat demonstration classroom which is an inviting blend of American convenience and French charm. Bottles of Laurent Perrier champagne grace the shelves. Brie wrappings line the walls next to framed articles from the now-defunct Washington Star. French provincial chairs are arranged under an enormous angled mirror which allows each student to watch exactly what's happening on the countertop and stove. Fewer than nine feet separate each student from the teacher.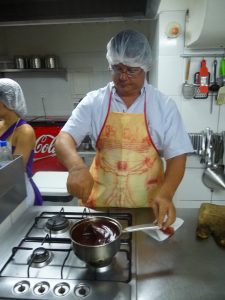 The beginning of class sounds like a pre-flight check. Tonight's menu is cold artichoke with chive vinaigrette, chicken braised in chardonnay and vegetables, and galette of mango with orange cream. twenty seven women and three men listen as Dionot and his assistant chef, a nuclear engineer who doubles as an assistant in The French Cooking Course, run through the check: "Chives?"
"Chives."
"Parsley?"
"Parsley."
"Artichoke?"
"Artichoke….we need more artichokes! Oh, and by the way everyone, don't ever eat this purplish part of the artichoke or you really will choke!" For professionals, a second facility in Gaithersburg has 40 student practices and pastry kitchens which forms graduates who go on to positions in some of the country's most prestigious restaurants, including The White House, Jean-Louis at the Watergate, and New York's Ca Nova.
Yet for all the prestige and glitter, l'Academie's beginnings were — and in a curious way still are — relatively humble. They mirror Dionot's own story. After earning a diploma in hotel and restaurant service from the Ecole Hoteliere de la Societe Suisse des Hoteliers in Lausanne, he got a job in a hotel. "I couldn't stand the hotel business. Why? People step on your feet all the time. And you have to step on theirs and not care. I never wanted to be told what to do. Early on, I realized I needed to be on my own. He waited 16 months for a visa before arriving in Washington. "I arrived in 1968 thinking I'd spent two years here. When I went back to France on a short trip to see what kind of job I could get, I realized I was already too Americanized. Here, if you want to do something, you can pick up the phone, get in your car, and do it."
Dionot knew he wanted to open a formal culinary institute like those in Europe. After gaining experience as a cook and Food and Beverage Manager at Rehoboth Beach's Henlopen Hotel, he accepted a position as chef and banquet manager at The Manor in West Orange, New Jersey. "It was a piece of the puzzle. That's where I got the idea of opening a cooking school." There he met his wife, Patrice, who is Administrative Director of the school. When his former Rehoboth employer invited him back to Washington to start L'Academie, he didn't hesitate.
In 1980, the site next door to L'Academie was a "greasy waffle shop" on which Dionot depended for gas and hot water. "I got a little nervous when the restaurant changed owners three times in one year," he explained, "so when it came up for sale in 1981, I decided to buy it." He opened a restaurant named La Champagne after his native region in France — with one ironic catch. At the time, federal law prohibited restaurants within a certain proximity of churches from serving clients alcoholic beverages.
"All of the restaurants within a two-block radius suffered the same dilemma," Dionot recalls. "We were — and are still — near not just one, but two churches! I mean, this was totally different from France. In France, where there's a church, there's a bar. Yet it functioned beautifully-clients brought their own bottles. La Champagne was one of about six tablecloth restaurants in Bethesda and the second French restaurant". And the former La Champagne is now the tres huppe Cafe Bethesda. Wine and beer have been plentiful since the law was changed in 1986 and the restaurant obtained its liquor license. Cafe Bethesda North, run by David Fiels, a 1989 graduate of L'Academie, opened in 1995 after Cafe Bethesda regularly had to turn away 100 people every Friday night.
The restaurants and l'Academie enjoy a popularity unlike that of any other of French establishments in Washington. The school makes French culture and cooking accessible, elegant, and affordable. "I've been coming for three years, and I have yet to hear any repetition," says a regular. An Indian student comes to learn the special techniques given in each lesson. An Australian working at the International Monetary Fund came for a complimentary course and signed on for more. "You can tell the immense interest poured into each part of the meal," he said. "Will I come again? Definitely!"
A passionnate atmosphere pervades the demonstration rooms. "Vocation is a soft word," Dionot admits when asked how he considers his mission. "We guarantee to teach you how to cook. Professionally, this field is too hard if you don't give 100 per cent of your passion. When we consider applicants for the professional program, we look at what they have done, how well they will adapt to a chef's life from the "nine-to-five" routine, and if they can deal with a high-pressure environment ruled by last-minute changes. Sometimes applicants for the professional program are surprised when we tell them in the interview that they'll have to give up a $40,000 or $50,000 a year job to earn $6.50 an hour as a line cook. But you have to think 'I must do this if I want to get there.'
"When it's 11 p.m. on a Saturday night and you're closing the restaurant, and the chef says he needs you the next day at 7:30 a.m. and it's your one day off, you may think 'but I was going to sleep late!' or 'But we're supposed to go to brunch tomorrow' or whatever. But the correct answer is always "yes, chef."
It's an answer l'Academie's professional graduates seem ready to give. Less than half of the students come from "nine-to-five" jobs, and those who discover the full-time program is not for them can opt for the part-time professional program.
As for the vocational courses, the school is so popular that it reserves one-week seminars in the summer for out-of-town students who flock here to learn about food service management, low-fat cooking techniques, and cold buffet presentations.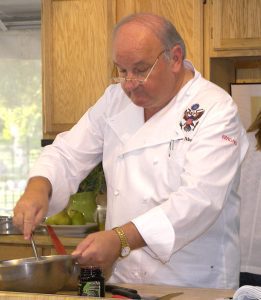 White House Pastry Chef Roland Mesnier(1944-2022) shares hints on pastry presentations. Kids' Cooking Camps teach children everything from kitchen safety and nutrition to how to prepare Thai, Moroccan, Indian, Italian, and Vietnamese dishes. Friday Night Specials appeal to Washington's time-pressed professionals, who unwind by having "fun with filo," celebrating a "fummer folstice wine dinner," and enjoying a "lavish low-fat feast." If the home "campuses" do not appeal, you could always study abroad. In September, Francois Dionot and l'Academie will sponsor a one-week cultural and culinary program for 12 students in Gers, France. The program will feature daily cooking classes, visits to an Armagnac distillery, vineyards, a foie gras farm, lunches and dinners at local bistros and Michelin star restaurants. This fall, instructor Ted Task will escort a group wine tasting tour to vineyards in Reims, Strasbourg, and Beaune. Closer to home, L'Academie will celebrate its 20th anniversary and Bastille day with a Champagne tasting dinner.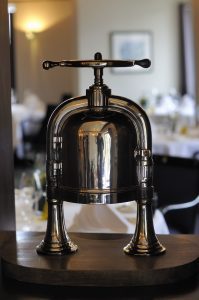 L'Academie's elegant sophistication is perhaps best symbolized in its logo which features the duck press, an emblem of haute cuisine. Adopted by chef Frederick at the Tour d'Argent in 19th-century Paris, the duck press is used only in a few exclusive restaurants. According to the school's prospectus, "So too, L'Academie's graduates learn and carry forth the sophisticated level of fine food preparation and presentation as seen in top-rated restaurants in both the United States and in Europe."
L'Academie de Cuisine
5021 Wilson Lane
Bethesda, MD 20814
(301) 986-9490
(301) 652-7970 (FAX).
Professional Programs
16006 Industrial Drive
Gaithersburg, MD 20877
(301) 670-8670 or 1-800-664-CHEF
(301) 670-0450 (FAX).
Culinary Launchpad L'Academie de Cuisine  Closed in December 2017