Disclosure: This page may contain affiliate links.If you click on them we may earn a small commission.If subsequently you make a purchase, we might earn a little more.As an Amazon Associate we earn from qualifying purchases.There is no cost to you.see
Our Disclosure Policy
for more info.

Recently updated on August 31st, 2022 at 11:09 pm
par Stéphanie Groman
 Le musée d'art du comté de Los Angeles accueille une exposition d'une rare qualité et en l'occurrence innove. La rétrospective "Chagall: 1907-1917" est la toute première sur le continent américain à réunir les chefs-d'oeuvre de la décennie la plus intense et signifiante de l'artiste. Les peintures (une centaine d'oeuvres réunissant les collections du Jewish Museum of New York ainsi que celles d'autres musées et collections européennes) sont enrichies de documents autobiographiques.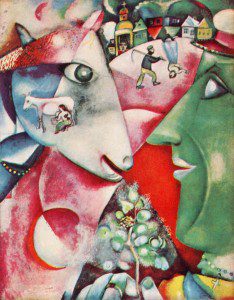 Photographies d'époque, correspondance et livres qui offrent autant d'ouverture sur l'Homme, son environnement social, et la nature de ses attaches culturelles.
Dans une pièce adjacente a été déplacée pour l'occasion une sélection de gravures bibliques, fruit d'un travail de vingt-cinq années. Les écritures saintes de l'ancien testament s'imposaient à lui comme la plus riche source de poésie de tous les temps ou encore: "un écho de la nature et de ses secrets" qui depuis l'enfance ont peuplé ses visions et exalté sa peinture.
En effet, l'art "Chagalien" est une recherche spirituelle imprégnée de croyances Hassidiques poétiques, qui par ailleurs, intègre les mouvements avant-gardistes parisiens de l'époque. Comme le décrit si merveilleusement le poète André Breton, la peinture de Marc Chagall:
"synthétise l'intensité chromatique du fauvisme à l'abstraction des
cubistes pour culminer à une explosion lyrique totale."
Pour aller plus loin si vous le désirez, une "gâterie" est proposée à l'entrée pour la somme modique de $5.00. Un baladeur connecte à un tour guidé de l'exposition donne au public le privilège d'entendre de la bouche même des proches de l'artiste ¬dont Bella Meyer et Gerhard Pinkus, respectivement petite-fille et ami intime de Chagall¬ des commentaires personnels et pénétrants qui ne parlent essentiellement que d'une chose: l'amour d'un homme pour une femme sublimé dans la peinture.
Marc Chagall au Los Angeles County Museum of Art, jusqu'au 5 janvier 97.
L'exposition est à écouter, voir et méditer.
Également au Los Angeles County Museum of Art, jusqu'au 2 mars 97.
The Hands of Rodin: A Tribute to B. Gerald Cantor.
Une cinquantaine de sculptures de mains.
5905 Wilshire Blvd, Los Angeles, California 90036