Disclosure: This page may contain affiliate links.If you click on them we may earn a small commission.If subsequently you make a purchase, we might earn a little more.As an Amazon Associate we earn from qualifying purchases.There is no cost to you.see
Our Disclosure Policy
for more info.
Discover The Rich History And Cultural Heritage Of Cognac:
Looking to visit a town that perfectly marries history, culture and gastronomy? We know exactly how you feel. Having been captivated by the charming city of Cognac ourselves, we immersed in its rich heritage to bring you an insider's guide to Cognac's cultural tapestry.
This article will help you discover the storied past of Cognac, explore renowned cognac houses, indulge in local French cuisine and participate in vibrant festivals. Ready to embark on this enchanting journey?.
Key Points
Cognac has a rich history that intertwines with the French Revolution?French and English Royalty,Dutch Traders and the rise of its renowned brandy.
Visitors can explore the cultural heritage of Cognac by visiting famous cognac houses like Hennessy, Rémy Martin, Martell, and Courvoisier.
Outdoor activities in Cognac include river cruises along the picturesque Charente River, bike tours through charming streets, and relaxation in the beautiful Jardins de l'Hôtel de Ville.
Festivals like Cognac Blues Passions, Fête du Cognac, Festival de la Musique Classique, and Coup de Chauffe offer vibrant music scenes and celebrations of local traditions.
Fine dining restaurants in Cognac serve traditional French cuisine with picturesque riverside views.
A Brief History of Cognac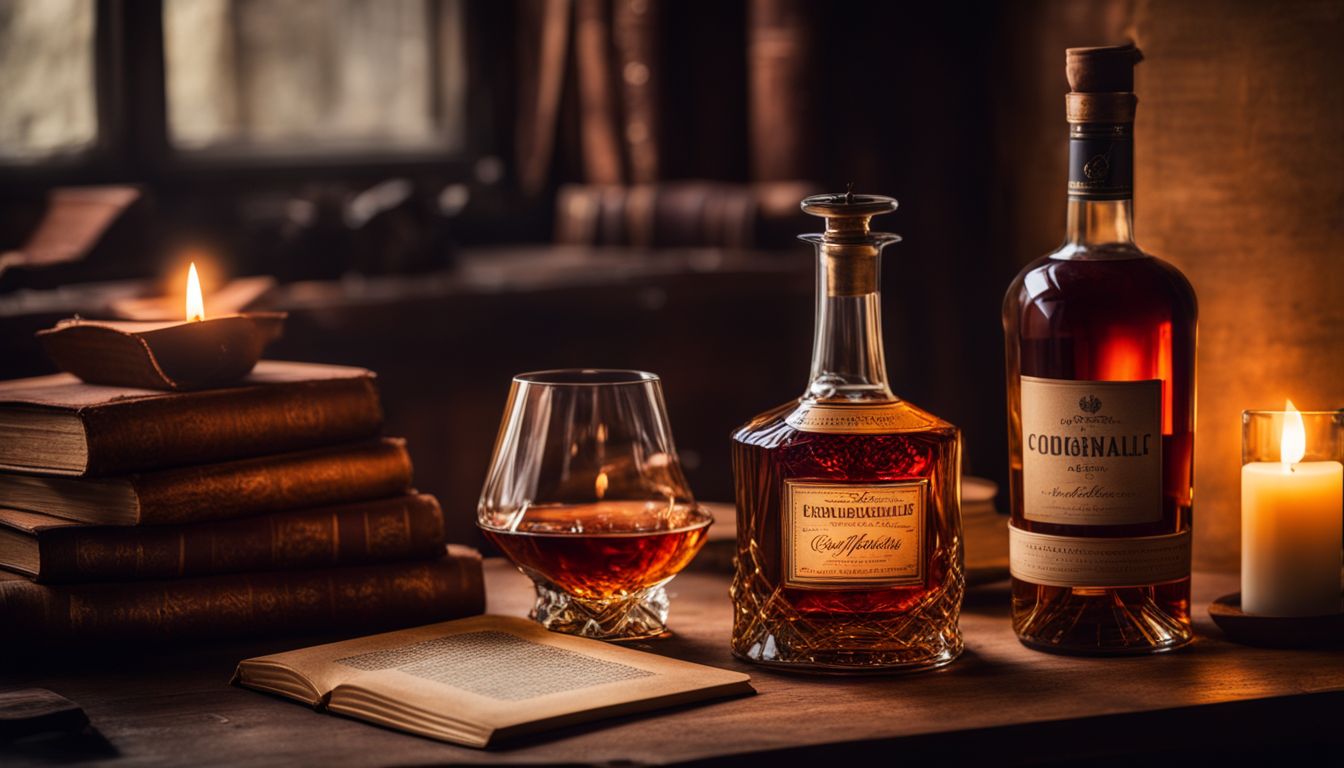 Cognac's fascinating history intertwines with Dutch salt merchants,draining of the Marais Poitevin the French Revolution, as well as the rise of its renowned brandy, making it a captivating subject to explore.

Cognac Wine: the Genesis
Since the middle ages wine from the region had been sought by the Dutch. It was transported to countries bordering the North Sea by ships that had come to the Charente for salt. In the sixteenth century Henri IV called upon Dutch Engineers to drain the Marais Poitevin who became even more enamoured with the region's produce. Salt, Angoulême paper and Cognac wines.
Cognac Brandy
In the 16th century, the Dutch decide to distill the region's wines to better preserve them Dutch knowledge of the art of distillation encouraged them to distill the wines upon arrival in Holland. Indeed, the region's low-alcohol wines suffered from the long voyage overseas and distillation allowed preserving them.The Dutch name for these distilled spirtis was Brandewijn (Burnt wine).
The Rise of Cognac Brandy
Until the beginning of the 17th century, distillation consisted of only one heating, producing "brouillis," a liquid drunk mixed with aromatic herbs.
Legend has it that double distillation was invented by the Chevalier de la Croix Maron, Lord of Segonzac, a pious man who dreamt that Satan was trying to damn his soul. In his dream, he saw himself in the Devil's cauldron, but his faith was so deeply anchored in his soul that it resisted the first "cooking". To achieve his ends, the Devil was forced to "cook" it again.
When he woke up, the Chevalier had the idea of extracting the "soul" of eau-devie with a second distillation.
Thus the legend of the origin of the discovery of double distillation for Cognac eaux-de-vie was born.
Delays in loading the boats, resulted in the discovery that the spirit improved with age in oak casks made from wood from the neighbouring Limousin forest and that it could be drunk straight. The first Cognac house was established in 1643 : Augier.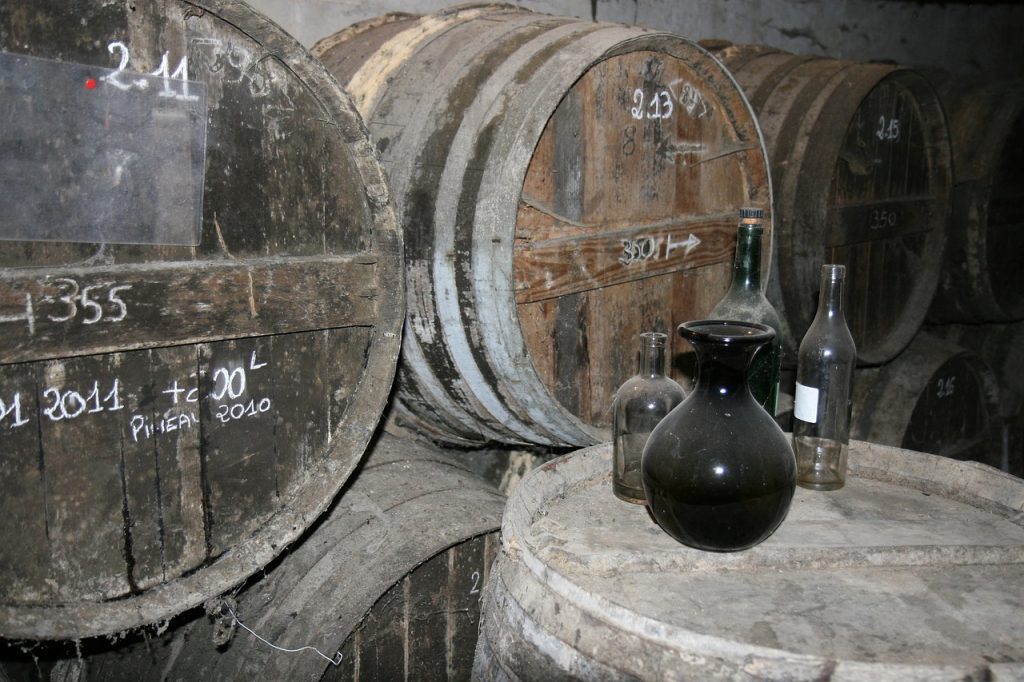 In the 19th century, France endured seven political regimes and two revolutions, leaving the country with unstable with periods of economic freedom interspersed with periods of protectionism . It was during this century that many of the Cognac houses were established (Bisquit 1819, Courvoisier1843, Royer 1853, Meukow 1862, Camus, and Hardy in 1863)
In the middle of the 19th century, Cognac houses began to ship the spirit in bottles rather than casks, in order to establish their brand.
This evolution in trade gave birth to related industries: glassmaking (in 1885 Claude Boucher began working on mechanizing bottle manufacturing procedures at the St Martin glass factory in Cognac), case making, cork production and printing.
Phylloxera
Around 1875 phylloxera appears in the Cognac region. Phylloxera is an insect of the hemiptera family and one of its species, Phylloxera Vastatrix, attacks grapevines and sucks the sap from their roots.It arrived when cognac-making was at a highly affluent peak, wiping out livelihoods .
It would destroy the greater part of the vineyard (around 1895 there would be no more than 42,581 hectares left under vine, compared with the 280,000 ha in 1877).
It took nearly 70 years for Cognac to recover.
Understanding Cognac as a Brandy
Cognac is a type of brandy. It gets this name from the town of Cognac in France. This eau de vie comes from white grapes predominantly the Ugni Blanc variety grown in the Charente . After picking, these grapes go through the process of fermentation to produce wine.
The wine then goes through two rounds of heating to produce a strong and rich eau de vie. The final product must mature for at least two years in oak barrels before we call it Cognac.
So remember that all cognacs are brandies but not all brandies are cognacs!
Exploring the Rich Cultural Heritage of Cognac
Visit the Cognac Houses (Hennessy, Rémy Martin, Martell, Courvoisier)
Let's dive into the heart of Cognac. Picture the big Cognac houses like Hennessy, Martell, Rémy Martin and Courvoisier.  These houses have made top-grade cognacs for many years.
We can see master blenders at work and walk through old cellars full of aging barrels. The air smells sweet with a rich, oak scent that comes from the aged spirit inside the barrels.
You can experience unique sips straight from these barrels too! From deep amber to light gold  each has its own charm and history to share .
Discover the Old Town of Cognac
The Old Town of Cognac is a must-see. It's an old city full of charm. Here, you will find beautiful parks and historic houses. The wine culture is also pretty strong here too. Also, the Charente River gives this place a pretty setting.We can trace back the city's wealth to this river.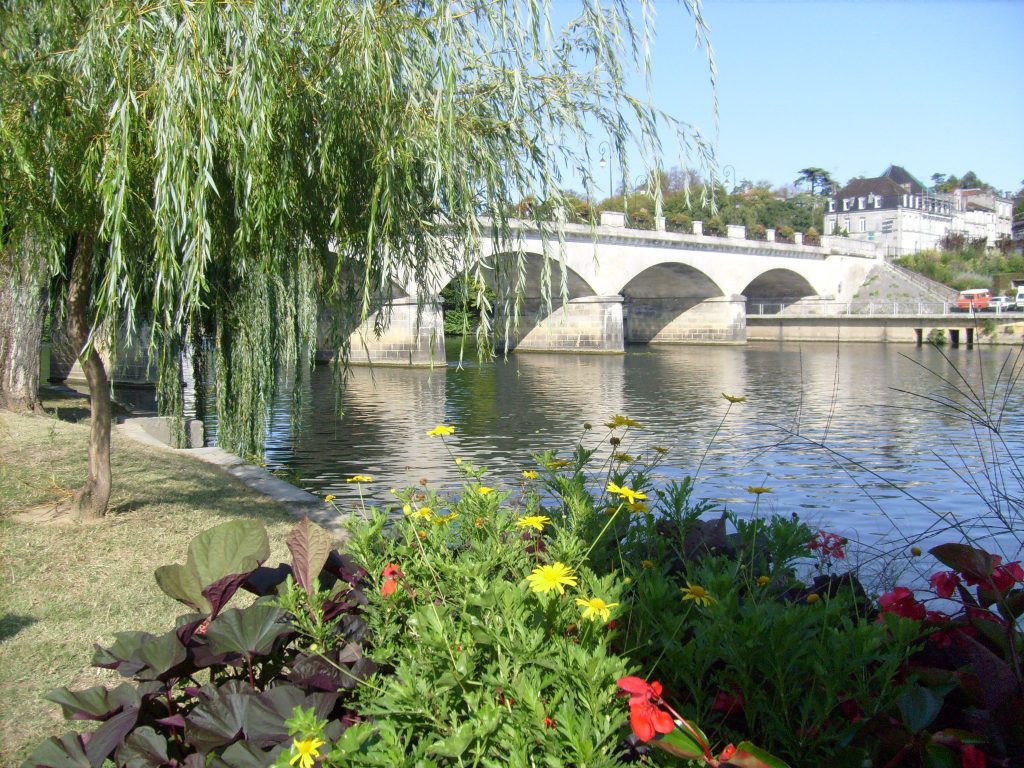 You should take time walking in the narrow streets of Old Cognac. The old buildings tell stories about past people who lived here.Let your eyes soak in these wonderful sights!Remember to try some local foods as well while going around town! As we know, new flavors make trips more fun!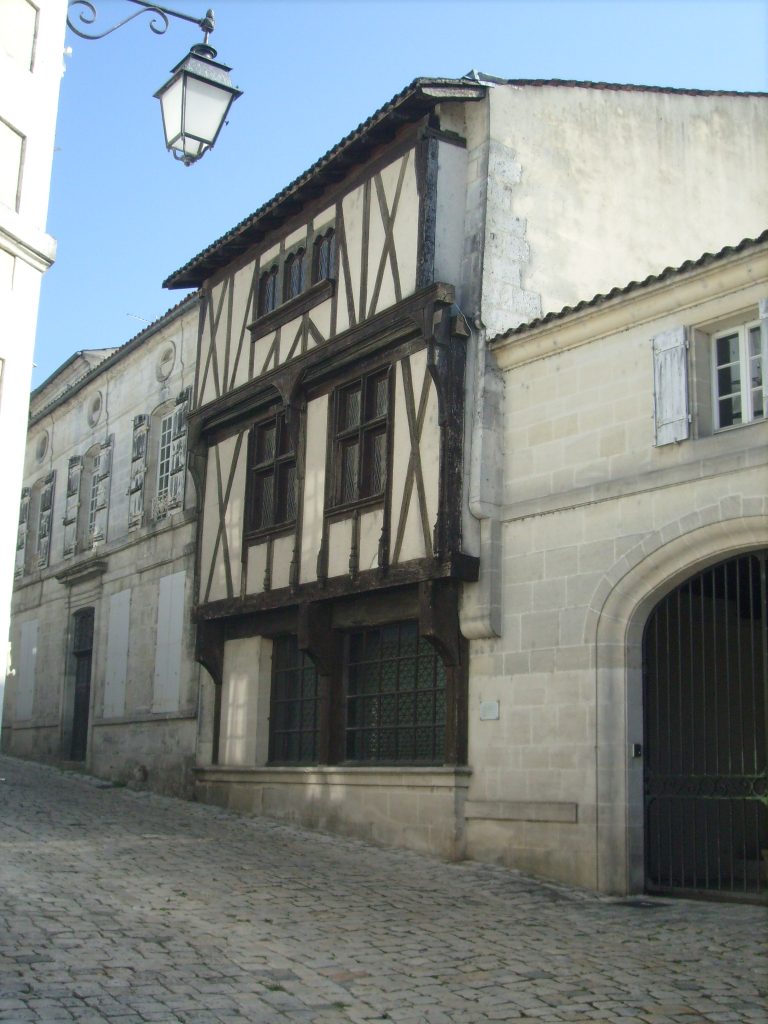 Explore the Château Royal de Cognac
Let's go see the Château Royal de Cognac. This grand castle is not to miss. It has a direct link with François I, who was born here. The view from this place is magic. It is now home to the famous Otard Cognac.
A tour will show how it's made and you can taste some too! Old stone walls add beauty to this fine place on top of its rich past.
Visit the Cognac Museum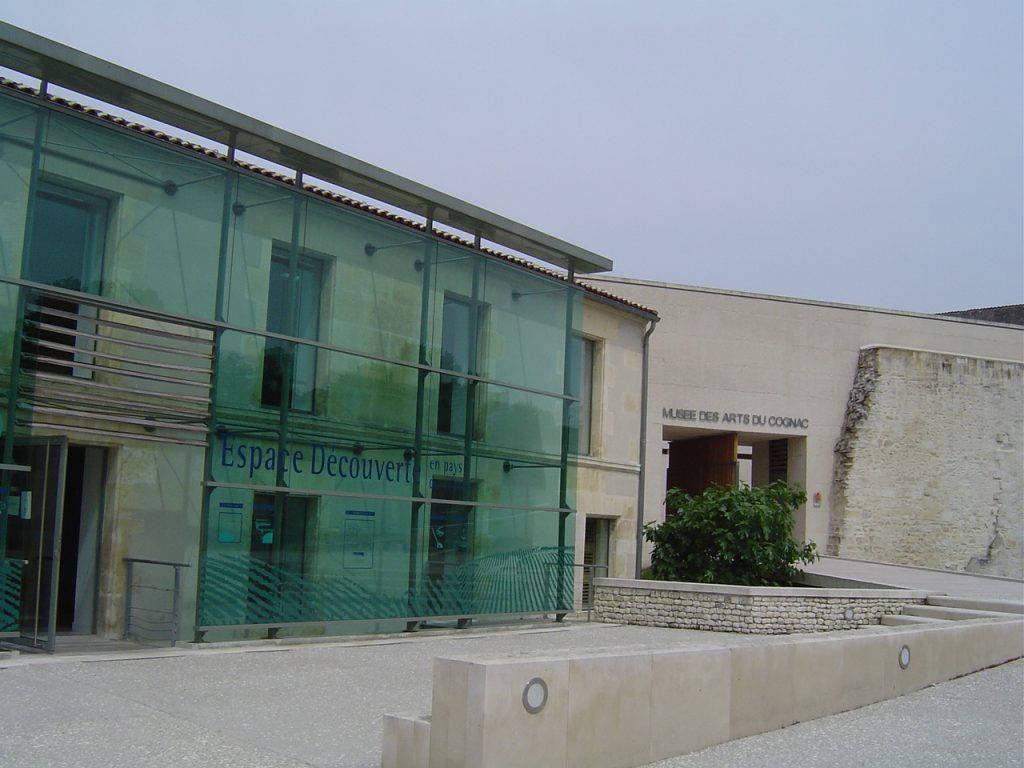 You should not miss the Cognac Museum on your trip. This place is full of things to learn. It tells cognac's story and also teaches us how to taste and enjoy cognac the right way.It has more than 800 pieces that tell the history of this eau de vie.
Outdoor Activities in Cognac
Experience the beauty of Cognac with thrilling river cruises, scenic bike tours, and peaceful moments in the Jardins de l'Hôtel de Ville.
River Cruises
Exploring Cognac by taking a river cruise is a delightful way to experience the city's beauty and history. As you glide along the picturesque quays of the Charente River, you'll be treated to stunning views of the surrounding vineyards and charming villages.
It's a peaceful and relaxing journey that allows you to take in the sights at your own pace. Along the way, you can learn about Cognac's rich heritage from knowledgeable guides who will share interesting facts about its role in French history and its famous brandy production.
Whether you choose a short cruise or opt for a longer excursion, a river cruise in Cognac is an experience not to be missed.
Breathe in the fresh air as we make our way along the tranquil waters of the Charente River on our scenic river cruises through Cognac. Feel like royalty as we pass by historic landmarks such as Jarnac, with its quaint old town begging to be explored.
Learn about the city's prosperity and origins tied closely with this majestic waterway. Sit back, relax, and enjoy panoramic views of rolling vineyards which have helped shape Cognac into what it is today.
Bike Tours
Exploring Cognac on a bike tour is a fantastic way to soak in the city's beauty and history. Pedal through the charming streets, taking in the sights of historic houses and picturesque parks.
As you cycle along, you'll also have the chance to visit renowned Cognac houses like Hennessy, Martell, Remy Martin, and Courvoisier. Feel the wind in your hair as you ride along the quai Charente River, enjoying its scenic views.
It's not just about sightseeing; biking allows you to immerse yourself fully in Cognac's unique atmosphere while staying active and engaged with your surroundings. So hop on a bike and discover all that Cognac has to offer!
Relax in the Jardins de l'Hôtel de Ville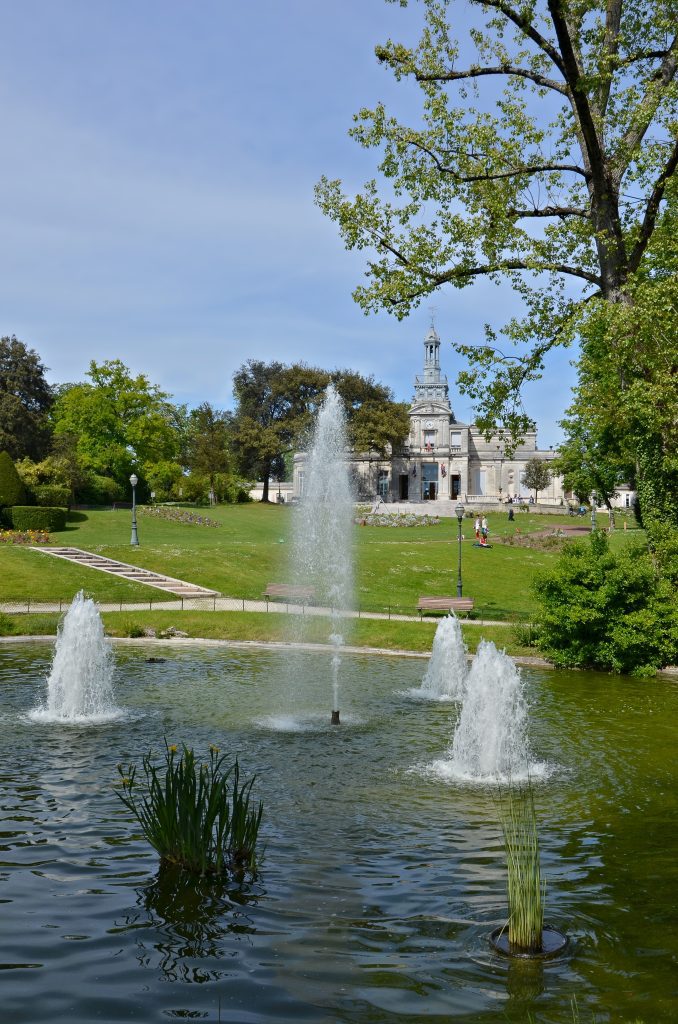 The Jardins de l'Hôtel de Ville is a beautiful park in Cognac where visitors can relax and enjoy the peaceful surroundings. The park is located near the city center, making it easily accessible for tourists.
With its well-manicured lawns, colorful flower beds, and shady trees, it's a perfect spot to unwind after a day of exploring. You can take a leisurely stroll or find a cozy bench to sit on while taking in the scenic views.
The park also features charming fountains and decorative statues that add to its allure. Whether you want to have a picnic with family and friends or simply take some time for yourself, the Jardins de l'Hôtel de Ville provides an idyllic setting for relaxation amidst nature's beauty in Cognac.
Festivals and Events in Cognac
Experience the vibrant music scene of Cognac at festivals like Cognac Blues Passions, Fête du Cognac, Festival de la Musique Classique, and Coup de Chauffe.
Cognac Blues Passions
Cognac Blues Passions is a festival that music lovers should not miss. It brings together some of the most talented blues artists from around the world for a week-long celebration of this soulful genre.
The festival takes place in Cognac, adding to the city's vibrant cultural scene. During Cognac Blues Passions, visitors can enjoy concerts by renowned musicians and discover new talents as they perform on different stages across the city.
It's a lively event that attracts both locals and tourists alike, creating an incredible atmosphere filled with music and good vibes. So if you're a fan of blues or simply want to experience something unique during your visit to Cognac, make sure to check out Cognac Blues Passions.
Cognac Fête du Cognac
Cognac Fête du Cognac is a lively festival that celebrates the rich heritage and unique flavors of Cognac. This annual event brings together locals and tourists to enjoy a variety of activities, performances, and tastings centered around this famous spirit.
Visitors can explore the charming streets of Cognac while indulging in the different brands and blends from renowned Cognac houses like Hennessy, Rémy Martin, Martell, and Courvoisier.
The festival also features live music performances, traditional dances, and cultural exhibitions that showcase the vibrant history of this beloved drink. It's an exciting time to be in Cognac and immerse yourself in its fascinating traditions while creating unforgettable memories with your loved ones.
Cognac Festival de la Musique Classique
At the Cognac Festival de la Musique Classique, music lovers can indulge in a delightful blend of classical melodies and the rich flavors of Cognac. This annual festival showcases talented musicians from around the world, who come together to perform in breathtaking venues such as historic churches and elegant châteaux.
The enchanting atmosphere created by this fusion of music and spirits makes it an unforgettable experience for visitors. Whether you are a fan of classical music or simply appreciate cultural events, the Cognac Festival de la Musique Classique is a must-see attraction that brings harmony and celebration to this charming city.
Coup de Chauffe
Coup de Chauffe is a lively and exciting festival that takes place in Cognac every year. It celebrates the arts and creativity, bringing together artists from all over to showcase their talents.
During the festival, the city comes alive with street performances, art installations, music concerts, and much more. It's a fantastic opportunity to immerse yourself in the vibrant atmosphere of Cognac and experience its artistic side.
Whether you're into music, dance, or visual arts, Coup de Chauffe has something for everyone to enjoy. So if you're planning a visit to Cognac, make sure to check out this amazing event and witness the incredible talent on display.
Dining and Accommodation in Cognac
Indulge in fine dining at Cognac's top restaurants, savoring traditional French cuisine and enjoying picturesque riverside views.
Fine Dining Restaurants
If you're a food lover, Cognac has some wonderful fine dining restaurants to satisfy your taste buds. These establishments offer exquisite cuisine prepared by talented chefs who know how to create dishes that will leave you wanting more.
With their focus on using fresh and seasonal ingredients, these restaurants provide a true gastronomic experience. From traditional French cuisine to innovative culinary creations, there is something for every palate.
So whether you're in the mood for an elegant meal or celebrating a special occasion, be sure to check out the fine dining options in Cognac.
Don't forget to try the local specialty, Pineau des Charentes, a sweet fortified wine made from grapes grown in the region. With its emphasis on fresh ingredients and bold flavors, traditional French cuisine in Cognac is a culinary experience not to be missed.
Best Places to Stay
When it comes to finding the best places to stay in Cognac, visitors are spoiled for choice. From charming boutique hotels to luxurious chateaus, there is something for every taste and budget.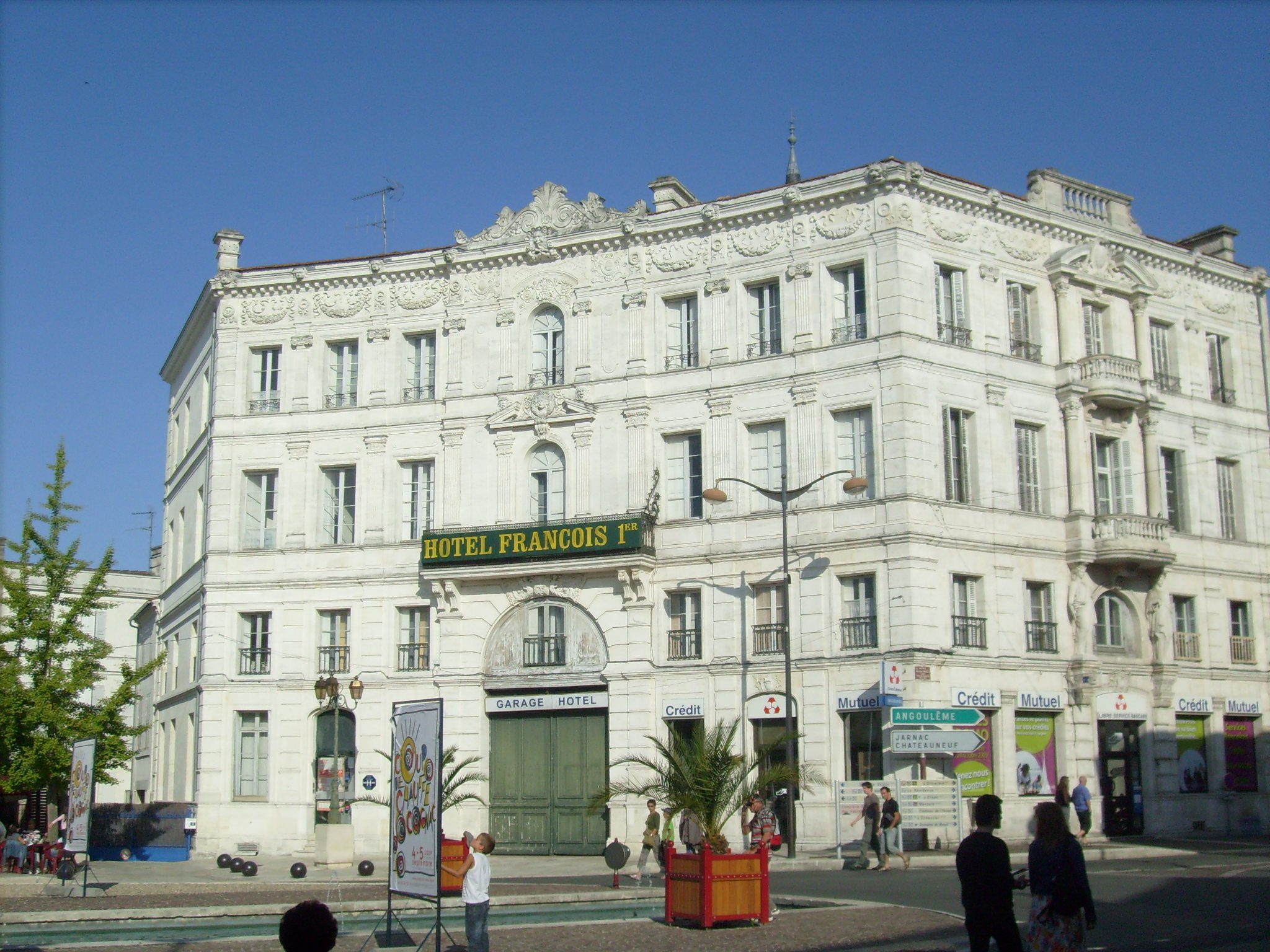 One option is the Hotel François Premier, located in the heart of Cognac's historic district. This four-star hotel offers elegant rooms and a rooftop terrace with panoramic views of the city.
Another popular choice is the Château de L'Yeuse, a beautiful 19th-century castle surrounded by vineyards. Guests can enjoy spacious rooms, gourmet dining, and a peaceful setting just outside of town.
For those looking for a more intimate experience, La Maison de Margot is a charming bed and breakfast situated in a renovated 18th-century house. With comfortable rooms and homemade breakfasts, this cozy accommodation provides an authentic French experience.