Disclosure: This page may contain affiliate links.If you click on them we may earn a small commission.If subsequently you make a purchase, we might earn a little more.As an Amazon Associate we earn from qualifying purchases.There is no cost to you.see
Our Disclosure Policy
for more info.
Dom Juan in Manhattan
This is Molière. The title is spelled correctly. There are no Dons in Dom Juan in Manhattan.
One night in a quiet West Village French Bistro I caught him sketching on a bar napkin, passing time during a slack spell in his bartender's duties. I asked to see. He quickly screwed up the napkin, and made to throw it away like a schoolboy caught in the act. But I prevailed, clawing the sketch away from him. It was a skilled caricature of two young ladies seated at the far end of the bar, slightly lewd, very funny. It was also the beginning of an acquaintanceship that has included occasional dinners and drinking sessions, but more importantly introduced me to a whole new world of theatre, the theatre of Franco-American, Gallic-English comedy.
Robert can act too.  And direct. And write.

As we chatted in the bar on this first evening I wasn't surprised to learn that Robert, like the great majority of chatty bartenders and waitresses in Manhattan's restaurants, is also an actor. Only Robert is no neophyte thespian, no dreamy-eyed aspirant waiting for the call of Hollywood. Robert is a real actor, and bi-lingual to boot with a thick résumé of serious credits including major roles at Théatre du Soleil in Paris and teaching workshops all over the western world. Although that's not the way he explained it. He's far too modest. I learned all this later when I saw him working at his real vocation, on stage.
Which more or less brings me to the grist of the matter. A remarkable production of Molière's Dom Juan is being staged at the tiny Nada Theater on Ludlow Street in the East Village in September. It's something no self-respecting Francophile will want to miss.
Now before you start seeing images of seventeenth century morality plays that go on and on, espousing the values of chastity and frugality and all that stuff, relax. This is no ordinary Dom Juan. For a start, it is set in contemporary Manhattan and even includes a brief sojourn in the Hamptons. What's more, it isn't performed in French. Nor in English. Instead, it meanders in and out of both languages, with the local tongue probably favoured slightly. But most importantly, it is the brainchild of my friend Robert, which means that it absolutely hilarious from the television news report which opens the play all the way to the dénouement in the street outside the theatre.
This is guerrilla theatre in the truest sense of the overworked term. It is inventive, courageous, intensely immediate, and even participatory on occasion. The theatre itself, to those of you who may not have been there yet, is a basement in a brownstone. It seats perhaps fifty, and is about as intimate as a theatrical space could be. Milling around, drinking the theatre-provided wine, before the performance starts, it slowly dawns on you that the actors themselves are amongst you. And before you know it, the play starts, and you're in it!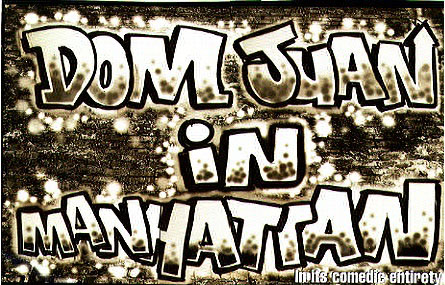 The cast of fourteen are all bilingual, mostly expatriate French. And while the production is obviously too small to reward the players with Broadway strength paychecks, they are a remarkable collection of performers. There are no weak links, no incursions of ham-fisted amateurism, no one who can't meet the burden of bilingualism. Outstanding in the Role of Dom Juan himself is Jean Brassard, a young Quebecois living in New York and working, believe it or not, as a commentator for the World Wrestling Federation's international TV coverage, on numerous TV soaps and many off-Broadway productions.
But it is Sgnanarelle who will steal your heart. As Dom Juan's majordomo he is a bundle of obeisance, quick wit and cowardice toadying around his master and providing a constant stream of eyebrow-raising aside to the audience. He had me in stitches. And you will not be surprised to learn that he is played by none other than my friend Robert.
The production was originally staged earlier this year in two parts, separated by a month or so of rehearsals. It was a huge success in a short run. So much so that Nada invited Artaban (the Theatre Company led by my erstwhile barman friend Robert Gourp) to stage the complete play for a month's run starting September 9 through October 2 1996, with performances on Monday, Tuesday and Wednesday evenings.
For those of you who may find the whole idea of a bilingual performance a little daunting, don't be afraid. As the program suggests, "the question to be asked is not whether every word has been understood, but whether every emotion and intention has been. The strength of this piece lies in its ability to transcend language and culture." Never was a program blurb more accurate.
You'll laugh your chaussettes off.
Remember this is Molière. The title is spelled correctly. There are no Dons in Dom Juan.
Update
Nada, founded as Theater Club Funambules and later known as Todo con Nada, was a Manhattan theater company that staged experimental work for twelve years until it closed in November 2000. The company was evicted from its Ludlow Street space in November 2000 for nonpayment of back rent.
Robert Gourp returned to France and since January 2020, has been working on a montage of poetic texts by Baudelaire, Rostand, Victor Hugo, Lecomte De Lisle… interspersed with extracts from other texts by Serge Valletti.
Like many others, impacted by the health crisis, he is thinking about how to continue the mission of his Artaban association and continues to work on the resumption of his activity.