Disclosure: This page may contain affiliate links.If you click on them we may earn a small commission.If subsequently you make a purchase, we might earn a little more.As an Amazon Associate we earn from qualifying purchases.There is no cost to you.see
Our Disclosure Policy
for more info.
"Rumor has it we are in for a cold winter."
Greta – Paris-born chanteuse, songwriter and stage performer-of whom critic Andrew Martin, writing for "Night and Day," said of her, "If Jacques Brel and Edith Piaf had met, fallen in love, got married and had a child, the result would probably be Greta. This is a performer who truly defines the meaning of cabaret artist.
With the sights and sounds of Greta's native Paris keenly felt in her interpretation of traditional French songs, implicit in Martin's amusing comment is the recognition that the chanson is part of a tradition in French popular song writing, that is, of creating lyrics about life, love and humanity in a way that is mature, honest, direct and timeless. Whether sentimental or, as it often is, satirical, the beauty of the French chanson is in its simplicity.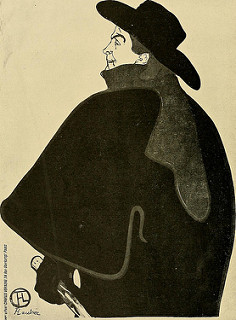 Aristide Bruant, celebrated in the art of Toulouse Lautrec, and writing in Montmartre at the turn of the century, is acknowledged to be the founder of the contemporary school of French popular songwriting. And, like François Villon before him, his attention was drawn to the poetry of the streets. As Lisa Appignanesi points out in her fascinating book, "The Cabaret," Bruant found the street argot "colorful, lively, brutal, cynical, and rich in picturesque metaphor, daring neologism and imitative harmony. He set out to learn it, taking as his masters those perambulatory professors he met on his long nightly walks in the 'damned' city – vagabonds, prostitutes, ruffians, the dispossessed. Bruant not only educated himself in argot, but in the lives of the people who spoke it. Soon he was to recreate both in his songs making the art of the chansonnier what has been called the most human of all arts." With its small stage and intimate setting the modern cabaret, at the time of its inception in Montmartre in 1881, was the most suitable forum for the expression of the chanson. It still is, for the chanson, if at times more politically oriented than at others, remains deeply personal.

Greta's repertoire of songs places her in the chanson's glorious tradition. She is constantly searching for lyrics that best expresses her own intense feelings about life, love and humanity. She often writes her own lyrics and has material written especially for her. Furthermore, she has appeared on international stages and her awards include, among others, the Backstage Bistro Award for Female Vocalist and the Critics Choice Award for Outstanding Achievement in Cabaret.
Her first album, "The Other Side of Me," has been released on an independent label, and she is working on a new CD of a live performance. And, she is as comfortable singing selections from Kurt Weill in the original German as she is her French selections.
What attracts Greta to this material? "It's the passionate feelings about life that interests me in those chansons. It doesn't have to be about something major, it's the small, affectionate gestures between people that matter, a walk down the street, arm in arm – that special moment that we always remember and return to – that's what's really important." As the saying goes, it's the little things that mean a lot? Right," she says. Greta's choice of material reflects a life lived, with memories and reminders that life, no matter how much it beats one down, is worth picking up and going on. She is a mature artist, and a woman of strength and dignity. Her cabaret performances are truly in a class by themselves.