Disclosure: This page may contain affiliate links.If you click on them we may earn a small commission.If subsequently you make a purchase, we might earn a little more.As an Amazon Associate we earn from qualifying purchases.There is no cost to you.see
Our Disclosure Policy
for more info.
par Stephanie Groman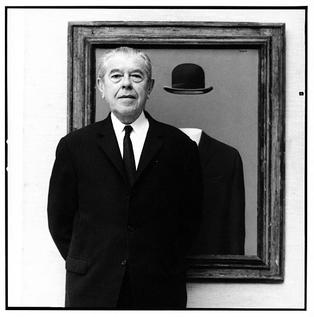 Artiste peintre et sculpteur francophone d'origine belge, Magritte élabore au contact du mouvement surréaliste parisien un style unique, inspiré de la mise en scène théâtrale et de la série noire.
A l'occasion des quarante-cinq oeuvres de l'artiste exposées au musée Armand Hammer de Los Angeles, six célèbres auteurs américains honorent de leurs poèmes quelques-unes des peintures de l'exposition et se rallient au peintre dans son effort de substituer "l'effet stéréotype de la peinture traditionnelle en poésie triomphante: Don't look at that cloud" It has breasts! Don't say the word "breast"! (Deborah Greger).
Au même titre que la poésie, les peintures et sculptures de René Magritte exploitent le langage de la métaphore et plonge l'observateur dans un monde insolite et déroutant composé d'objets ambigus, disproportionnés, isolés de leurs fonctions premières et toujours à contre emploi.

Le génie de Magritte est de savoir, au moyen de métaphores inventives et lumineuses, nous faire redécouvrir des vérités trop souvent dissimulées par le visuel. Un pari audacieux que d'avoir recours à l'image même, source première de trompe-l'oeil! Là où tant d'autres peintres se sont évertués à nous donner l'illusion du vrai, Magritte nous met en garde, non sans humour, contre la duperie de l'image.
Chacune de ses oeuvres est un mystère, une interrogation. Ainsi le cuir du soulier se confond a la chair du pied, le corps nu de la femme est parfois incomplet ou fragmenté, "Madame Récamier" (sculpture inspirée du célèbre tableau de David) se retrouve confinée de son vivant dans un cercueil à angle droit qui accompagne la position de son corps Immortalisée en quelque sorte!
Libre au visiteur de réagir avec sa sensibilité propre et se remémorer si le coeur lui en dit, les paroles inspirées de l'artiste:
"L'important n'est pas que les gens soient choqués par quelque chose
mais plutôt qu'ils se choquent du fait même de l'être".
Quel que soit l'esprit avec lequel on choisit d'aborder les oeuvres de Magritte, chacun y trouvera le bonheur de l'évasion, le rire et l'émerveillement devant l'ingéniosité de ces subtils messages et métaphores.
LE MUSEE ARMAND HAMMER
10899 Wilshire Boulevard, Los Angeles, CA 90024. Tel  310-443-7000
Jusqu'au 5 janvier 1997.