Disclosure: This page may contain affiliate links.If you click on them we may earn a small commission.If subsequently you make a purchase, we might earn a little more.As an Amazon Associate we earn from qualifying purchases.There is no cost to you.see
Our Disclosure Policy
for more info.
Beaujolais
Le Beaujolais Nouveau est Arrivé!
To French ears, this clarion call signifies "the third Thursday in November" as much as the word "Thanksgiving" rings in American ears as meaning "the fourth Thursday in November." According to French law the Beaujolais nouveau cannot be released before the third Thursday in November. Because the grape is young and white with a delicate flavor, and the wine undergoes fermentation for only a few weeks after it is harvested, the law's purpose is to let this light-bodied wine ferment just enough before going to the market. One of the best known red wines, Beaujolais comes from southern Burgundy in a vintage area that begins in Mâcon, sixty miles south of Beaune, and extends down near Lyon along the western bank of the Saône river. The name "Beaujolais" comes from the village of Beaujeu which was originally a barony; yet Villefranche, situated between Mâcon and Lyon, is the region's principal nerve center.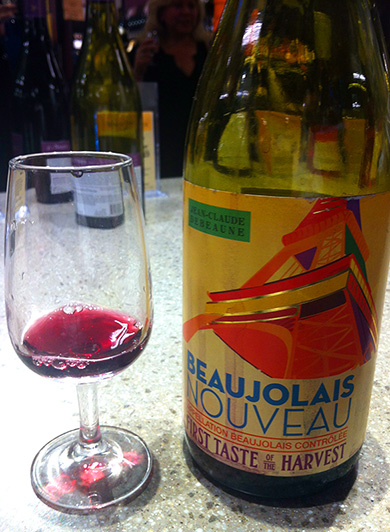 Beaujolais is made by thousands of small producers who sell the wine to local shippers.  Some of the shippers names are familiar in this country: Georges Duboeuf, Paul Beaudet, Louis Jadot, and Louis Latour are but a few examples.

The wine actually exists in three varieties:Beaujolais,Beaujolais-Villages, and the 10 crus of Beaujolais.
The 10 crus are richer, fuller wines that can accompany heartier foods. They last longer than their younger, lighter cousins.
Only Beaujolais and Beaujolais-Villages may be sold as Beaujolais nouveau.
The expression "le Beaujolais de l'Année"  refers to "Beaujolais nouveau." It is an informal reference to wine from the most recent vintage also called primeur.
Beaujolais Nouveau comprises approximately one-third of the entire Beaujolais crop of Gamay grapes. Harvested in September and October, this wine is less sturdy than those usually exported. It is best consumed before Christmas.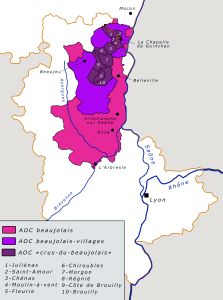 Beaujolais Villages wines come from a number of villages in the center of the region. This soil is considered to produce better wines than the soil that lies farther south. The Villages family could be said to be "a cru above" its Beaujolais cousins according to "appellation contrôlée" requirements.
The 10 crus of Beaujolais come from 10 villages in the northernmost part of the region. These villages are listed on the wine label : Fleurie, Côte de Brouilly, Juliénas, Chiroubles, Morgon, Saint-Amour, Chénas, Moulin-à-Vent, Brouilly, and Regnie.