Disclosure: This page may contain affiliate links.If you click on them we may earn a small commission.If subsequently you make a purchase, we might earn a little more.As an Amazon Associate we earn from qualifying purchases.There is no cost to you.see
Our Disclosure Policy
for more info.
Beaujolais Nouveau
For two weeks every year at the end of November, Beaujolais Nouveau is the most well-known wine in the world. The bottles are released at midnight from Villefranche on the third Thursday in November. On this day the French government allows the first wine of the vintage from Beaujolais, the region just north of Lyon, to be consumed. This year, more than 60 million bottles of the 1996 crus will be sent out into the world. Whether you are in New York or Tokyo, you are sure to find a selection in restaurants and most retail stores.
While some may find Beaujolais Nouveau too young, simple and light, others enjo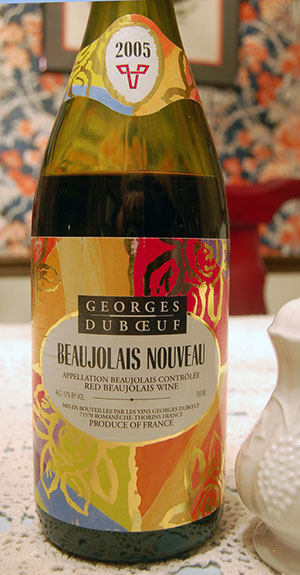 y these characteristics as well as the fruity, sweet taste. The wine achieves its character from the climate, soil, the Gamay grape and a special wine-making technique which is much shorter than that of other red wines. The method used to produce this wine is a type of fermentation called carbonic maceration. The main difference between carbonic maceration and "traditional" fermentation is that the former method reduces the astringency which is often typical of young red wines.
Many chefs find Beaujolais Nouveau to be adaptable to a wide variety of foods including chicken, rabbit, and salmon. And because of the wine's high acidity content, it cuts through the textures of pasta and cream or cheese, while its fruity character complements lightly spicy flavors.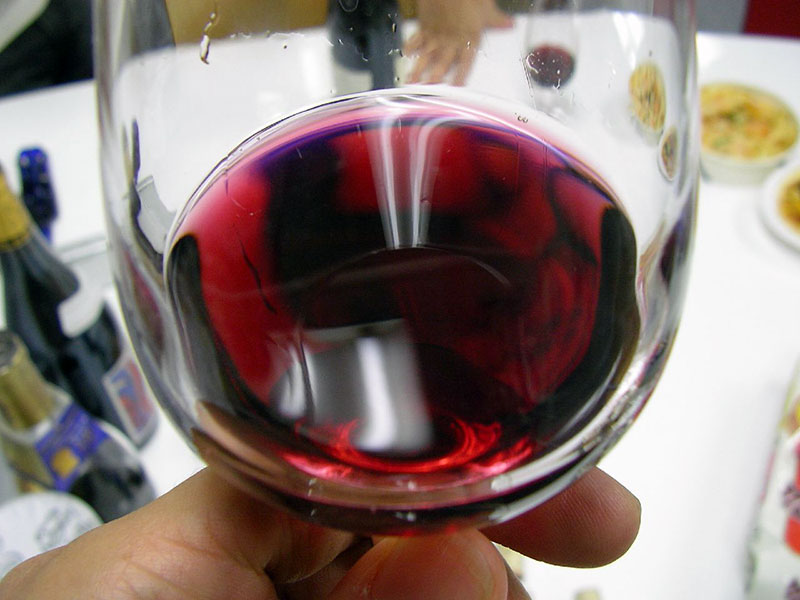 Most Beaujolais wines, especially the nouveau, are best served slightly chilled. Some believe that it improves after it has a few minutes or contact with air. Others decant it.  Le Francophile has included a few recipes from two New York City restaurants, Le Chantilly and Tatou. According to Michel Bourdeaux, chef at Tatou, "light recipes go best with Beaujolais Nouveau. You do not want strong flavors like venison," he says. To best appreciate this year's crus, choose foods that do not overwhelm the freshness of the wine.
Bon Appétit!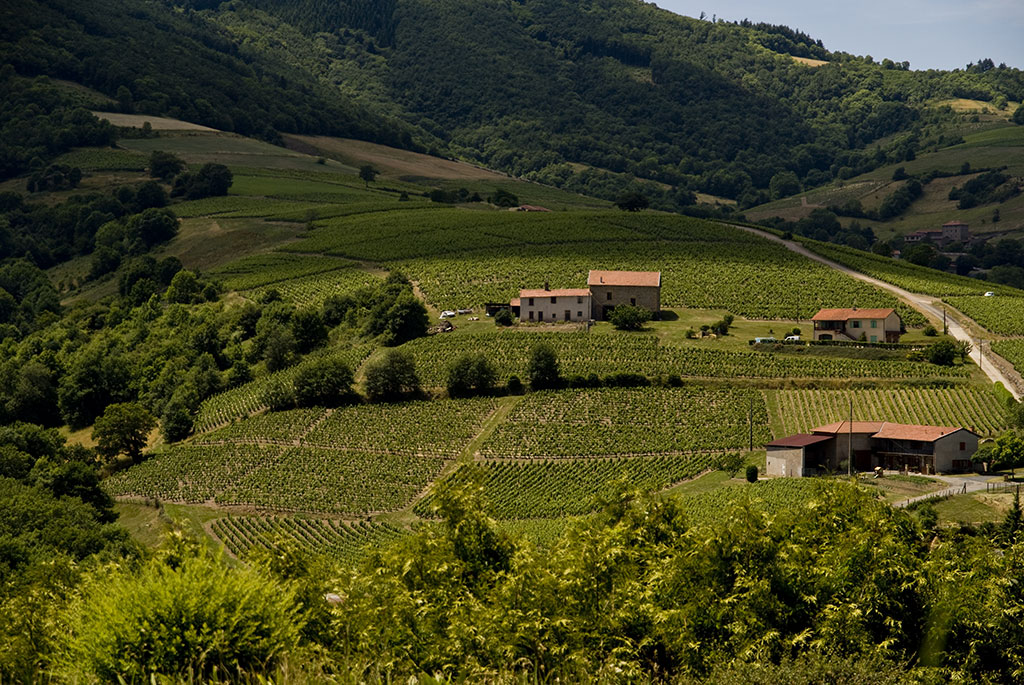 Le Chantilly, New York City
Sauté of chicken "beauséjour" with garlic and fresh thyme
Serves 2
1 – 3lb chicken cut into pieces
1/2 head garlic peeled and sliced
1 teaspoon cracked black pepper
1 bay leaf
2 sprigs fresh thyme
4 tbls. butter
1/4 cup white wine
1 cup veal stock
1 tbl. Dijon mustard
1 tbl. chopped chives
Season the pieces of chicken with salt and pepper. Heat 1 tablespoon of butter in a saute pan, lightly brown the chicken on both sides. Add the sliced garlic, cracked pepper, thyme and bay leaf to the pan. Cover the pan and place in a 375°F (190°c) oven for 8 minutes. When the chicken is cooked, remove from pan, leave the garlic and herbs in the pan. Pour off excess fat and deglaze with white wine. Reduce to syrupy consistency. Add the veal stock cook for 5 minutes. Add mustard and remaining butter. Season if necessary with salt and pepper and pour over chicken. Garnish with chopped chives.
Tatou, New York City
Gougères
serves 6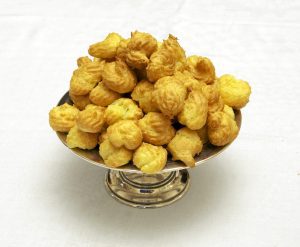 5 oz flour
3 oz butter + 1 oz for cookie sheet
4 eggs
1 cup of water
5 oz gruyere (grated)
Salt and pepper
1 pinch of nutmeg
In a sauce pan heat up the water, then butter, salt and pepper. When boiling add at once the flour and stir it energetically with a wooden spoon, as to obtain one homogenous dough, away from the heat incorporate the eggs one by one. Add the grated cheese and nutmeg, check seasoning. Fill a pastry bag with the mixture and using a crown tip mold mount little round balls of dough onto a buttered cookie sheet.
Bake in a pre-heated oven about 375°F (190°c)for 15-20 minutes.
Chocolate soufflé
Serves 4-6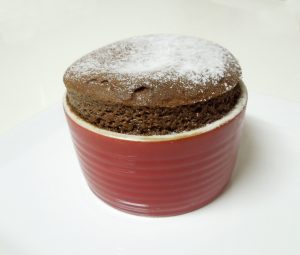 1/2 cup milk
4 heaping tbsp sugar
4 heaping tbsp cocoa
4 eggs, separated
2 tbsp butter
1 tsp sugar (to sprinkle in souffle dish)
Pinch of salt
Blend the milk, sugar and cocoa in a saucepan. Cook slowly until it reaches a boil, stirring constantly. Lower theheat and continue cooking until the mixture is thickened. (about 10 minutes). Remove from flame and add eggs yolks. Add the butter and beat until you have a smooth batter. In a separate bowl, beat egg whites with a pinch of salt until you have a firm snow. Using a spatula, slowly fold the whites into the chocolate mixture. Pour into a lightly buttered and  sugared souffle mold or individual ramekins.
Preheat oven to 350°F (175°c). Place souffle in the oven and bake for 17 minutes.
May be served with Vanilla Sauce or sweetened whipped cream.