Disclosure: This page may contain affiliate links.If you click on them we may earn a small commission.If subsequently you make a purchase, we might earn a little more.As an Amazon Associate we earn from qualifying purchases.There is no cost to you.see
Our Disclosure Policy
for more info.

Recently updated on August 13th, 2022 at 02:51 am

The Film Society of Lincoln Center's Walter Reade Theater presents
"Le Livre, Le Film: French Screen Adaptations"
June 28-August 8
The Film Society of Lincoln Center is pleased to present "Le Livre, Le Film: French Screen Adaptations", a selection of 30 French films, based on French novels, plays or short stories, featuring an impressive array of acting and directing talents. From June 28-August 8; the delicate yet demanding art of shaping literary and dramatic works into film, in the rich context of French cinema, will be celebrated at the Walter Reade Theater. All films are doubled-featured except Charterhouse of Parma and The Red and The Black.
The program was organized by Richard Pena and Joanna Ney with special thanks to Bertrand Tavernier for his enthusiasm and encyclopedic knowledge of film and literature; to Benoit Caron, French Cultural services (NYC); Martine Butrolle and Christine Houard, Bureau de Cinema, Ministry of Foreign Affairs (Paris); Jacqueline Chambord and Deirdre Mahoney of the Alliance Française; Nicole Jouve of Interama, Richard May of Turner Entertainment, and David J. Grossman of the Film Forum in Philadelphia.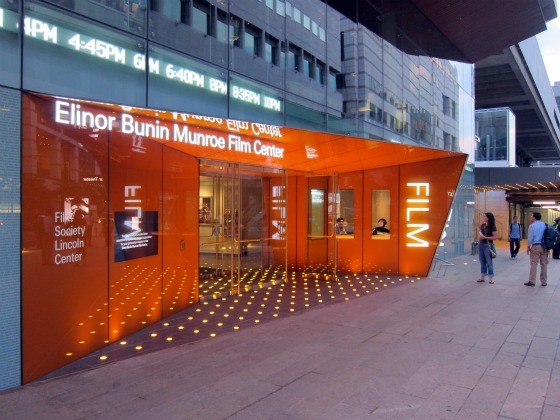 Two archival rarities: the 1948 adaptation of Gigi (90 mn), based one of Colette's most popular novels, and Poil de Carotte (1932, 94 mn). June 28 and 29; and July 2 with Jules and Jim.
Jean Cocteau's Les Parents Terribles (1948, 98 mn). July 14 and 15 with Death in the Garden. Beauty and The Beast (1946, 95mn) is Cocteau's haunting, surreal adaptation of Marie Leprince de Beaumont's 1757 fairy tale. August 5 on a double-bill with a new 35 mm print of Georges Franjus' horror classic Eyes Without a Face (1959, 90 mn).
Jean Renoir's classic La Bête Humaine (1938, 90 mn). July 22 and 23 with Thérèse Duqueyroux.
Marcel Carné's rarely shown Thérèse Raquin (1953, 106 mn). July 1 with Boule de suif.
René Clément's Gervaise (1956, 116 mn). July 16 and 17 with Douce.
Also: Jeux Interdits (Forbidden Games) (1952, 102 mn). July 7 and 8 with Diary of a Country Priest.
Jacques Becker's last film: Le Trou (1959, 123 mn). July 24 and 25 with Goupi-Mains-Rouges.
Claude Autant-Lara's Douce (1943, 106 mn). July 16 and 17.
Bertrand Tavernier's Un Dimanche à la Campagne (Sunday in the Country) (1984, 94 mn.
July 18 and 21 with The Clockmaker by Georges Simenon.
Christian-Jaque's Boule de Suif (Ball of Fat) (1945, 90 mn) adaptation of Guy de Maupassant. July 1.
Le Plaisir (1952, 97 mn) based on de Maupassant's "The Mask," "The House of Madame Tellier," and "The Model." July 9 and 10 with Chabrol's Madame Bovary.
Christian Jaque's Charterhouse of Parma (1948, 170 mn). August 7 & 8.
Claude Autant-Lara's The Red and The Black (1954, 170 mn). July 6. Separate admissions on these two films only.
Jean Pierre Melville's Léon Morin, Prêtre (1961, 118 mn). July 5.
Luis Bunuel's La Mort en ce Jardin (Death in the Garden) (1956, 104 mn). July 14 and 15.
The Walter Reade Theater is located at 165 West 65th Street, plaza level. Tickets prices are as follows: $8.00 for the public, $5 for Film Society Members, $4 for senior citizens during weekday matinées. Group sales are available through the box office 1:30 p, to 15 mn after the last show begins.
For schedule information, the box office number is (212) 875-5600.
Tickets may now be purchased through Moviefone by calling 777-FILM. Dial 777-FILM for showtimes and advance tickets sales-up to one week before the screening, then press # to bypass the commercial message. Press the Walter Theater Express Code, #954, and enter your credit card number. There will be a $1.25 service charge per ticket.