Disclosure: This page may contain affiliate links.If you click on them we may earn a small commission.If subsequently you make a purchase, we might earn a little more.As an Amazon Associate we earn from qualifying purchases.There is no cost to you.see
Our Disclosure Policy
for more info.
By Madeleine Beckman
It's  apropos that the fin de siecle should herald a restored and revived Maxim's on Madison. The recent partnership between Pierre Cardin and director David Ruggerio has made the opening of this restaurant-cabaret possible. Chef Paul Ingenito's (previously of the Russian Tea Room) French menu with "an American accent," will change seasonally and the entertainment will change twice monthly. The night Le Francophile was there, Lillias White from Broadway's "How to Succeed in Business…", "Dream Girls," and "Smokey Joe's Cafe," belted out tune after tune to diners like Denzel Washington who looking very smooth, appeared to be enjoying the evening.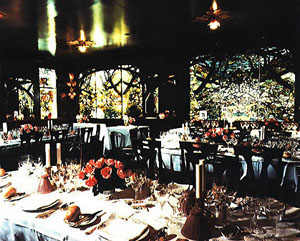 The mega-million dollar renovation is an exact replica of Maxim's De Paris. Built in 1899 at the height of the Belle Epoque the fluid lines of de l'Art Nouveau are evident in Maxim's New-York from the smallest details in the elevator to the flatware, lighting, stained glass ceiling, murals and four-inch beveled mirrors. The three rooms-Le Grand Salon, L'Omnibus and la Belle Otero- all crafted in rosewood with hammered brass each have their own personality.
The menu offers selections like appetizers of oysters in champagne emulsion and osetra caviar ($13.50), grilled foie gras on pepper brioche ($13.50); entrées include sautéed filet of black cod with warm mussel salad and saffron  shellfish broth ($19), pan roasted breast of roulade of guinea hen with white truffle oil ($23). For dessert the champagne granita and assortment of sorbets was refreshing ($7), but the Grand Marnier Napoleon with almond  lace wafers and orange segments ($7) — was disappointing (desserts need improvement). The wine list includes Pauillac, Margaux, Montrachet as well as Maxim's own champagne. (Downstairs at Maxim's is more casual, good for grabbing a "bistrot burger with frites and crispy onion rings" for $9.50 if you're out shopping the avenue.). If you've already eaten, the bar is a great place to sit, sip and listen to music.

Jackets are required and reservations suggested for dinner. Two shows nightly at 8:30 and 10:30. Opened Thursday, Friday and Saturday 5:30p.m. to 1a.m.
Maxim's Bistrot 680 Madison Avenue at 61st St. ( downstairs) opened 11:30a.m to 11:30p.m Monday- Saturday. 212-751-5111.
Maxim's Bistrot closed in 2000