Disclosure: This page may contain affiliate links.If you click on them we may earn a small commission.If subsequently you make a purchase, we might earn a little more.As an Amazon Associate we earn from qualifying purchases.There is no cost to you.see
Our Disclosure Policy
for more info.
When it comes to classic cuisine, one cannot deny that France has a deeply important heritage. French cuisine has spread to all parts of the world, inspiring and influencing people everywhere. What are the most famous traditional French Foods ?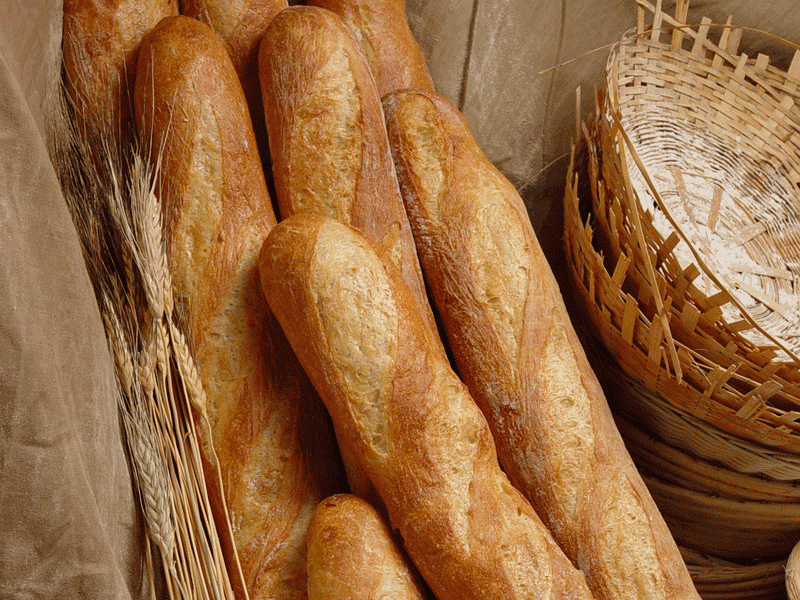 In the first place, France is a country which has a rich tradition in bread.
France also has a long tradition of peasant cooking. Though French food is often stereotyped as being very fancy and intricate, there are also many dishes that are designed to fuel people who worked in fields.

Lefrancophile has compiled a list of the most famous traditional French foods.
Andouillette de Troyes (Champagne Ardenne)
Sausage from the scrupulously cleaned digestive tract of pigs and calves and flavoured with herbs, spices, condiments, and wines. Sold cooked, except for highly exceptional cases, it has a distinct farmyard taste and smell.
Apfelstrudel Alsacien (Alsace)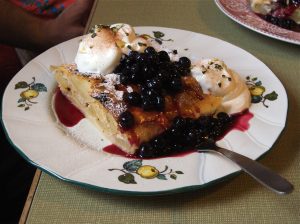 A cake made with a thin filo pastry called strudelteig, (strudel dough) filled with large pieces of tart apples, crushed walnuts, ground almonds, cinnamon, and raisins served warm with fresh cream.
Baeckeoffe Alsace (Alsace)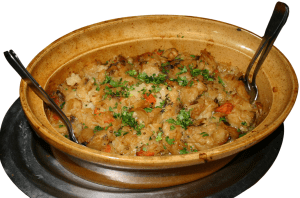 From the Alsatian Beckeoffe, meaning bread oven, is a traditional Alsatian dish made from potatoes, vegetables, and an assortment of lamb, beef, and pork, marinated, then stewed over more than 24 hours in a terrine, with spices, and white Alsace wine. Originally a dish left by Jews in the Christian baker's oven before the beginning of Shabbat on Friday and collected after Havdalah Saturday night.
Beurre d'Echiré(Poitou charentes)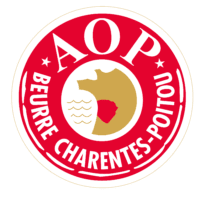 The Échiré dairy was founded in 1891 and became a cooperative in 1894. Sixty co-op members, whose farms are within a radius of 50 km of Échiré, provide the milk used to make this rich AOP butter.
Teak barrels churn the cream, requiring twenty-two liters of milk to make one kilogram of the butter made famous by "Le Roi des Cuisiniers" Alexandre Dumaine (1895-1974) Chef of the 3 Michelin Star Hôtel de la Côte d'Or in Saulieu.
Boudin Blanc de Rethel (Champagne Ardenne)
Boudin Blanc de Rethel is a pudding with pork, milk, fresh eggs, salt, gray and white pepper, and shallots. Other ingredients are sometimes added, such as truffles, or porcini, mushrooms. Boudin Blanc de Rethel has Indication Géographique Protégée (IGP) status, which means that its reputation comes from the place of production.
In 1626, Cardinal de Richelieu banned duelling, forcing Mr. Jacques-Augustin-Henri Chamarande, an officer of the king and duellist, to hide in Rethel to avoid arrest. He opened a charcuterie and produced a white pudding so distinct that it took the name of the city
Boeuf Bourguignon (Burgundy)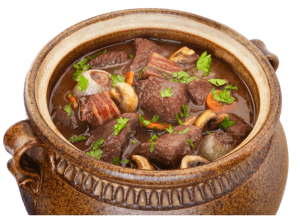 Boeuf Bourguignon is a stew made of beef braised in red wine, beef stock, garlic, pearl onions, fresh herbs, and mushrooms. A traditional peasant dish, slowly simmering beef in wine over two days tenderises the cheapest cuts of meat and intensifies the flavours. In Burgundy, the Fête du Charolais in August celebrates the prized Charolais beef with music, wine, and Bœuf Bourguignon.
Bouillabaisse (Provence Alpes Cote d'Azur)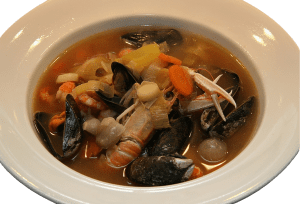 Bouillabaisse is a traditional speciality of Mediterranean Provence. Originally from Marseille, it consists of a fish soup accompanied by croutons of bread rubbed with garlic and spread with rouille, pieces of fish, and potatoes.
This fish stew was formerly a fishermen's soup, made from unsaleable or unsold rock fish, left at the bottom of the fish baskets when returning from fishing.
Today bouillabaisse is made with freshly caught rock fish cooked in a court bouillon of water, white wine, garlic, olive oil, and saffron.
The fish used are red scorpion, red mullet, John Dory, Conger (locally called fiélas ),Greater Weaver, Sea Bream, Whiting, Anglerfish (monkfish), and Red Gurnard (locally called la galinette ).
Depending on the taste of the guest and the chef's style, the dish is either served in two stages as a soup in which grilled bread rubbed with garlic and rouille is soaked and then the fish and potatoes or all at once mixed in a soup dish.
Bourride Sètoise (Languedoc Roussillon)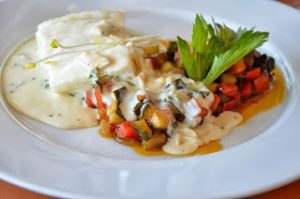 Bourride à la sètoise is a fish stew from Sète on the Languedoc coast. It is a ragoût predominantly made with Anglerfish (monkfish), other white fish, vegetables, fresh lemon juice, and white wine, mixed with aïoli and fresh cream.
Its name likely stems from the same source as Bouillabaisse, the Latin to boil "bullire." Still, it differs from its culinary cousin by only being made with white fish, containing aioli and cream, and not served with Rouille.
The recipe has many local variations. Traditionally vegetables such as leeks, chard, carrots, celery, potato, and tomato are cooked in a court bouillon of water, white wine, olive oil, onion, lemon, orange peel, saffron, garlic, and bay leaves.
Then, monkfish tails, sea bass, or turbot steaks are poached in a court bouillon. Some aïoli and cream are added to the reduced broth. Either served separately or combined with the vegetables in a soup tureen, the dish is accompanied by fresh bread and aïoli
Brandade de Nîmes (Languedoc Roussillon)
Brandade de Nîmes is a traditional dish from the Languedoc-Roussillon region in southern France. It is made of salt cod (bacalao) puréed with olive oil and potatoes, and sometimes flavoured with garlic, bread crumbs, and/or cream. The mixture is typically served as a warm dip or spread, often with crusty bread or crudités. Brandade de Nîmes is a staple dish in the region and is well-known for its unique flavour and creamy texture.
Canelé de Bordeaux (Aquitaine)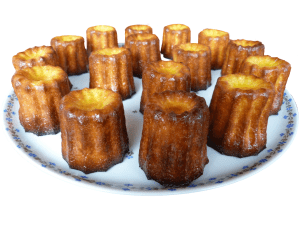 Canelé de Bordeaux is a traditional pastry from the Aquitaine region in
southwestern France. It is a small, cylindrical cake with a caramelized crust and a custard-like interior. The cake is made from a batter of eggs, sugar, flour, milk, flavoured with rum and vanilla. Canelé are baked in a special mould originally made from copper to achieve its unique texture and flavour. The Confrérie du Canelé de Bordeaux founded in 1985 applied the single n to the name to distinguish cakes from Bordeaux and Gironde from cannéle made in other regions.The link to the slave trade is evident with the ingredients produced in the West Indies of rum, cane sugar and vanilla as is the link to the Bordeaux wine trade.Egg whites are used for fining ,part of the process to remove cloudy elements in wine.The yolks would then be used baking.  It is typically enjoyed as a dessert or snack, and is often paired with coffee or wine.
Cassoulet (Languedoc Roussillon)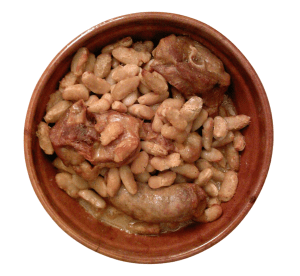 Cassoulet is a traditional slow-cooked casserole dish from southwestern France. It is typically made with white beans, meats such as sausage, duck confit, pork shoulder and ham, and a mixture of aromatic vegetables such as onions, carrots, and garlic. Cassoulet takes its name from the cone-shaped enamelled terracotta cassole called caçòla, made near Castelnaudary in Issel. The three towns of Toulouse, Castelnaudary and Carcassonne argue over the dish's origin, history and ingredients. This disagreement ignores that areas throughout southwestern France have versions of the casserole. It is, however, a typical peasant winter dish of whatever meat, beans and vegetables were available put in a pot and cooked over low heat during the day whilst the hands were working in the fields.
Chantilly Crème (Picardy)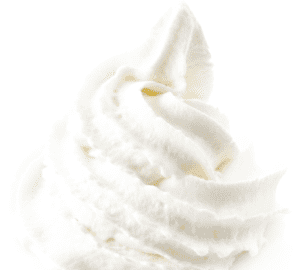 Chantilly Crème is a sweet, whipped cream that originates from northeast France. It is made by whisking heavy cream, and sugar, until it forms soft peaks. The only permitted flavouring is vanilla and if on a restaurant menu in France it must be homemade using a mixer, siphon or by hand. It is thought to have been invented by François Vatel the famed pastry chef at the Chateau de Chantilly in the latter half of the 1660s .
Clafoutis (Limousin)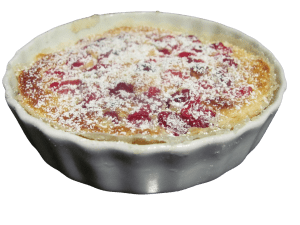 Clafoutis is a traditional French dessert hailing from the Southwest. It is a baked custard dish that features fresh fruit, typically whole cherries, arranged in a single layer in a shallow dish and covered with a sweet flan mixture. The mixture, typically made of eggs, sugar, flour, and milk, is poured over the fruit before baking until it is set and lightly golden. Also known as Milliard and Péliaïré  in the Limousin and Auvergne regions and chiffonnier in Occitan.
Confit de Canard (Aquitaine)
Confit de Canard is a classic dish from the Aquitaine region of France, made from duck legs that are slowly cooked in their own fat. The dish is a staple of Gascon cuisine and is known for its rich, savory flavor and tender, succulent meat.
To make Confit de Canard, the duck legs are rubbed with a mixture of salt, herbs, and spices, then covered with melted duck fat. They are then slow-cooked in a low oven until the meat is fall-off-the-bone tender and infused with flavor. The finished dish is typically served with potatoes cooked in the remaining fat, along with a simple green salad.
Coq au Vin (Burgundy)
Coq au Vin is a classic French dish  that features chicken cooked in red wine, with bacon, mushrooms, and onions. The dish is traditionally made with an older rooster, which gives the dish its rich, hearty flavor, although chicken is more commonly used today.
To make Coq au Vin, the chicken is browned in a pan, then simmered in a mixture of red wine, bacon, mushrooms, onions, garlic, and thyme. The ingredients are allowed to cook together until the flavors meld and the chicken is tender and juicy.
D'joute (Champagne Ardenne)
The Champagne Joute is a traditional pot-au-feu from Northern France.D'Joute also known as Potée Champenoise is made primarily from smoked Ardennes ham,pork,cabbage and sausages.Other vegetables including turnips,onions,potatoes and the occaisonal rooster make this wintry stew a classic.
Escargot de Bourgogne (Burgundy)
Wild Burgundy snails known as Gros Blanc or Escargot de Champagne and by the latin Helix pomatia are the predominant wild snails consumed in France.Due to their gradual disapearance they are protected by ministerial decree which prohibits collection or sale during the breeding season between April 1st and June 30th.Sale of the snails is restricted to those with a shell at least 3cm in diameter.Farming Gros Blanc snails is not as commercialy viable other species. Père Vallée, a Burgundian innkeeper from Bassou in Yonne in Burgundy , is said to have invented the recipe for Escargots de Bourgogne with butter,garic and parsley in 1796
Escargot du Jardin (Poitou Charentes)
Le petit gris, Cagouille, Luma or Escargot du Jardin, with the latin name Helix aspersa is widespread on the Atlantic coast and is farmed in the Charente.Production takes place between April and September.Adults measure 28 to 35 mm and the spiral (in latin helix) of their shell rotates clockwise known as Dextre.One in twenty thousand rotate anticlockwise known as Sènestre.Adult Petit gris have a reflected white, gray or black opening known as a peristome(around the mouth) forming the lower part of the shell, so they are said to be "bordered". In farmed gros-gris , the peristome is most often black.Recipes associated with this snail include the Catalan Cargolade-grilled with salt, pepper spices and lard and Escargots à la Proveçale-served with fresh tomato sauce and aïoli.
Far Breton aux Pruneaux (Brittany)
Far Breton aux Pruneaux is a traditional dessert from the Brittany region of France. It is a dense and delicious custard cake made with prunes, or dried plums, that is typically served as a dessert or snack.
The cake is made with a mixture of eggs, sugar, flour, milk, and cognac, which is poured over the prunes and baked in the oven. The resulting dessert is a rich and comforting treat, with the tender cake and sweet, juicy prunes creating a harmonious balance of flavors.
Farci Poitevin (Poitou Charentes)
Farci Poitevin is a traditional stuffed vegetable dish that typically features zucchini,eggplant, or peppers stuffed with a mixture of ground pork, breadcrumbs, and seasonings.
The dish is a hearty and flavorful dish that is often served as a main course, although it can also be served as a side dish. The tender vegetables and savory filling make for a delicious combination, and the dish is a popular choice for family meals and special occasions often served with a side of rice or fresh crusty bread,
Flammekueche (Alsace)
Flammekueche is a thin-crusted pizza-like dish topped with crème fraîche, onions, and bacon. The dish is typically baked in a wood-fired oven, which gives it a crisp and smoky flavor. It is a popular dish in Alsace and is often served as a main course or as an appetizer.
Flammekueche, also known as tarte flambée in French, has a long history in Alsace, dating back to the 19th century. It was originally made by farmers using ingredients readily available on their land such as onions, bacon, and a simple dough made from flour, water, and salt. The dish was traditionally served to workers as a quick and filling meal before heading out to the fields.
Foie Gras (Aquitaine)
Foie gras is a luxury food made from the liver of ducks or geese that have been specially fattened. It is considered a delicacy in French cuisine. Foie gras is typically served as a terrine, pâté, or seared as a main dish. The taste is rich and buttery with a tender and creamy texture. The production of foie gras can be traced back to ancient Egyptian times, but it was the Romans who first developed the process of force-feeding geese to enlarge their livers. The practice was later
adopted in France, particularly in the Aquitaine region, where it remains an important part of the local cuisine. Despite criticism from animal rights groups,due to the force-feeding process used to fatten the liver,it remains a highly sought-after delicacy throughout the world.
In France, foie gras exists in different, legally defined qualities, ordered by expense:
Foie gras entier, ("whole foie gras"), made of one or two whole lobes of liver ; either cuit ("cooked"), mi-cuit ("semi-cooked"), or frais ("fresh").
Foie gras, made of pieces of livers reassembled together.
Bloc de foie gras, a fully cooked, moulded block composed of 98% or more foie gras.
Bloc de foie gras avec morceaux, ("with pieces" added after mixing), it must contain at least 50% foie gras pieces for goose, and 30% for duck.
Parfait de fois gras, which must contain 75% foie gras.
Galantine de foie gras, a preparation containing at least 50% foie gras
Mousse de foie gras, a fine emulsion foie gras.
Fondue Savoyarde (Rhone Alpes)
Fondue Savoyarde is a warm,mixture of melted cheese and white wine typically served with bread for dipping. The cheese is typically a combination of Swiss-style cheeses such as Comté, Emmental,Gruyère,Abondance and Beaufort, which give the dish its distinctive nutty and slightly tangy flavor.
Fondue Savoyarde has a long history in the Rhône-Alpes region, dating back to the 16th century. In the past, the dish was considered a simple and practical way to use up stale bread and aged cheeses.
The tradition of eating fondue together around a communal pot also had social and economic significance, as it brought people together in a time when food was scarce and meals were often a shared affair.The pot used for melting the cheese is called a ramekin and in addition to cheese and wine,herbs, spices,shallots,pepper and truffles can be added to enrich the flavour.
Galette Bretonne (Brittany)
Garbure (Midi Pyrenees)
Gentse Waterzoi (Nord Pas de Calais)
Hareng Saur (Upper Normandy)
Jambon de Bayonne (Aquitaine)
Kippenwaterzooi (Nord Pas de Calais)
Kougelhopf (Alsace)
Macarons de Nancy (Lorraine)
Madleine (Lorraine)
Magret de Canard et Gésiers (Midi Pyrenees)
Mirabelle prunier (Lorraine)
Moules Marinieres (Brittany)
Moutarde de Dijon (Burgundy)
Nougat de Montelimar (Rhone Alpes)
Piperade Basque (Midi Pyrenees)
Pistou (Provence Alpes Cote d'Azur)
Potée Auvergnate (Auvergne)
Potjevleisch (Nord Pas de Calais)
Poulets de Bresse (Burgundy)
Quenelle de Brochet de Lyon (Rhone Alpes)
Quiche Lorraine (Lorraine)
Raclette (Rhone Alpes)
Ratatouille (Provence Alpes Cote d'Azur)
Rilletes du Mans (Pays de la Loire)
Rouille (Provence Alpes Cote d'Azur)
Sauerkraut (Alsace)
Saucisse de Morteau (Franche Comte)
Saucisse de Montbelliard (Franche Comte)
Saucisson
Sel de Guerande (Pays de la Loire)
Sel de l'Ile de Ré (Aquitaine)
Tart Tatin (Centre Region)
Tartiflette (Rhone Alpes)
Tourteau Fromage (Poitou Charentes)
Tarte Tropézienne (Provence Alpes Cote d'Azur)
Truffe de Périgord (Aquitaine)