Disclosure: This page may contain affiliate links.If you click on them we may earn a small commission.If subsequently you make a purchase, we might earn a little more.As an Amazon Associate we earn from qualifying purchases.There is no cost to you.see
Our Disclosure Policy
for more info.
Ponette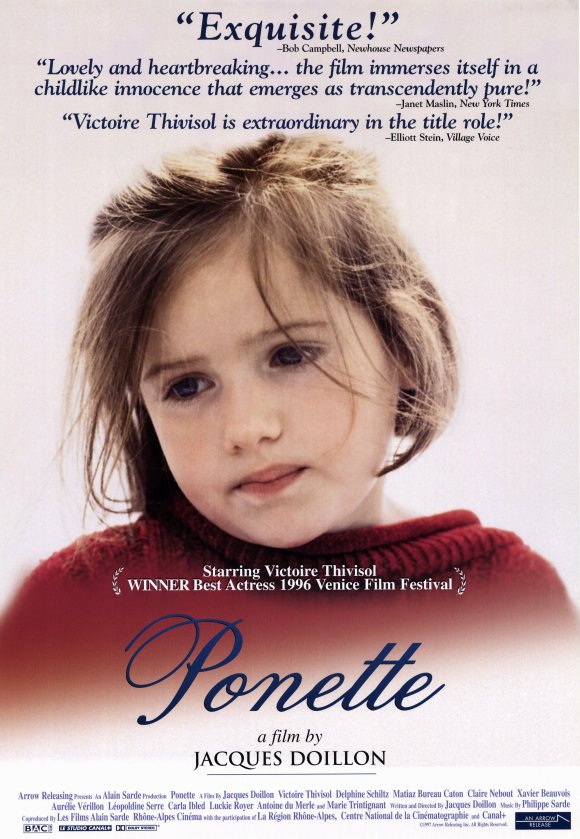 Jacques Doillon's (Director) lovely  film, "PONETTE" is the poignant struggle of a little girl to come to terms with the death and irrevocable loss of her mother. The film never wavers from its objective of telling the story from a child's perspective and the achievement is nothing less than astounding in its execution. It's hard enough for grown-ups to comprehend the finality of death, much less a child, but as the film exquisitely demonstrates, children have their own ways of dealing with crises and their world, unlike ours, is inhabited with all the imaginative tools necessary to cushion the blow of life's harsh realities.
The world of four-year-old Ponette (Victoire Thivisol) is turned upside down when her father informs her that a car accident has killed her mother. Ponette's childhood innocence is underscored when her father (Xavier Beauvois) asks her if she knows what her mother's death means and she replies, through her tears, "yes, she is flying on her magic mirror." Then, compounding her anxiety, her father leaves her with her aunt and two cousins while he goes on with his life, as he must. No matter what she is told about her mother's death, Ponette steadfastly refuses to believe that her mother is never coming back. She hears many different opinions, some from adults trying to comfort her with biblical stories, but mostly from other children, who possess a certain but amusing confidence about what happens to people when they die, and this only heightens her confusion and intensifies even more her search for her mother. And nothing tugs at the heartstrings more because, as viewers, we know what the ultimate outcome will be.
With pathos and humor, what drives this film toward its inevitable heartbreaking conclusion is Ponette's love for her mother and her single-minded determination to find her. The entire film is taken up with Ponette's journey and only the hardhearted could lose patience. Victoire Thivisol is an extraordinary young actress and, at times, she seems to infuse the role with an understanding far beyond her years. With the passage of time, Ponette comes to the realization that her mother is never coming back, but the strength of the film is rooted in Ponette's search. The film takes us into a world we long ago passed through but never, perhaps, entirely let go of. Not entirely – and that is it's appeal.

THE RUNNING TIME OF THIS FILM IS 92 MINUTES. IT IS UNRATED, AND IS IN FRENCH WITH ENGLISH SUBTITLES.