Disclosure: This page may contain affiliate links.If you click on them we may earn a small commission.If subsequently you make a purchase, we might earn a little more.As an Amazon Associate we earn from qualifying purchases.There is no cost to you.see
Our Disclosure Policy
for more info.
By Jenny Batlay
For those of us lucky enough to have known "Haute Cuisine" most of our life, a visit at Cafe Boulud is more than a must, as Cafe Boulud is a "pellerinage" to a gentler time when food was a wonderful part of life, one of its most sacred pleasures. As I am an authentic gourmet (who also delights in her own culinary creations) now, and then I happen to crave the perfect spot in New York where I could relax over a meal that for me is intimate, as it recalls an earlier life–for an American companion, it would be an incredible discovery. I believe I have finally found this spot.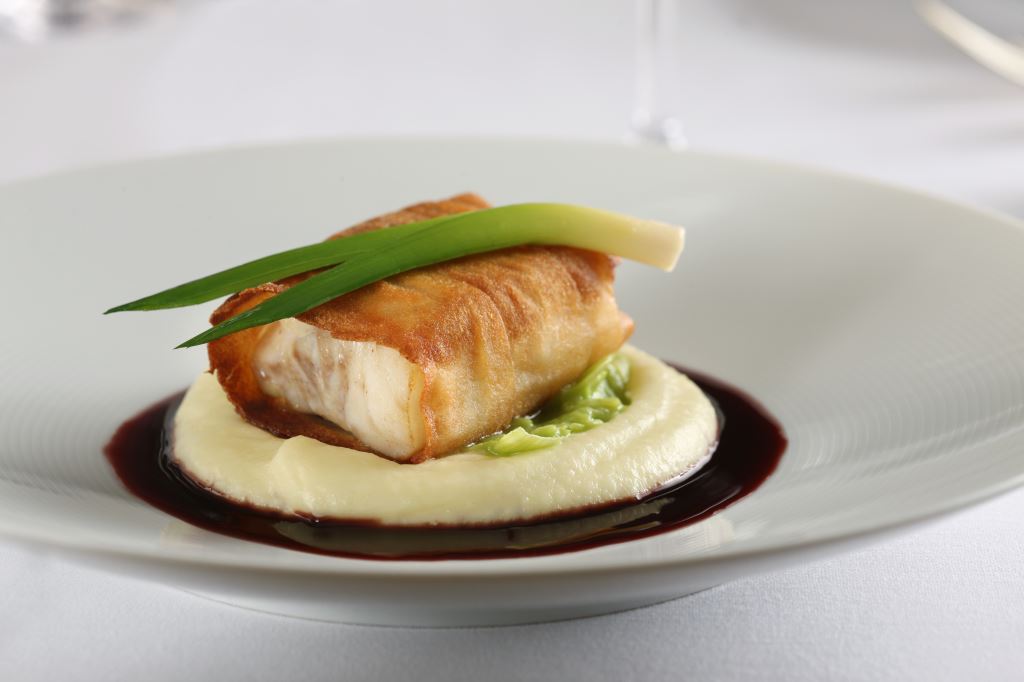 So on a dreary mid-week late January morning, I remembered just in time that I had fortunately, –as if predicting the invasion of such a moody day– made reservations at Daniel Boulud's newest spot on E. 76th, just to see why it was so talked about. My daughter Marcelline was home on her college break and I convinced her to join me.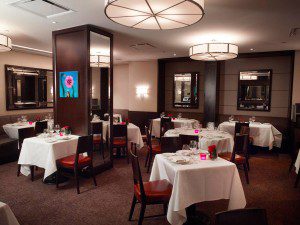 As we entered the packed restaurant I had a sense of "deja vu" feeling at home as well as far away, an indescribable feeling that this was it, Paris in New York, the best of both worlds! A courteous young lady from Brittany took our coats, and almost immediately a "Maitre D" showed us to our table, where we sat next to each other on a banquette, facing the interior. Marcelline noticed an unusual bouquet of green tropical plants dipping in a crystal square on our table, repeated on each table, preceding so to speak some bouquets of pale pink tulips, the most evanescently swinging flowers I have ever seen, delicately overlooking the bar from their slim transparent stems. It made me think of a "Flamand rose", gracefully standing on one foot.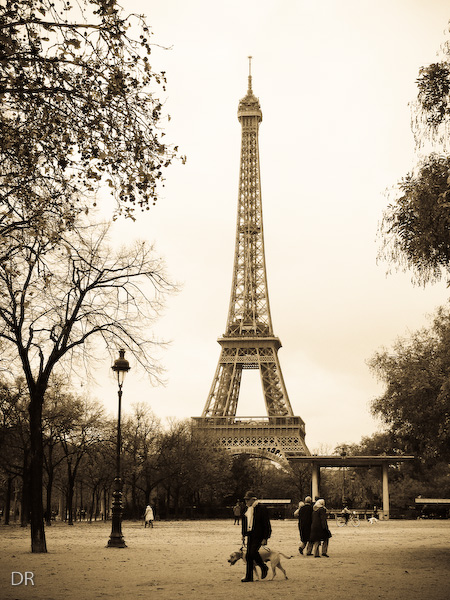 This certainly was not one of these huge, overwhelming, silly types of bouquets that I have seen around, squarely sitting in stately hotels, with their arrogant heads looking as if they have just come out of some suburban hairdressers, those bouquets that seem to combine every flower under the sun bore us with their vanity. No, at Cafe Boulud it was a refined bouquet, from the Olivier florist next door that breathed beauty in the subtlest way perfectly adapted to the Art deco architecture, with its sober etching and black & white photographs on the walls, reminiscent of the classical Parisian 1930's.
And as I was embarking in a floating reverie over vanity and sophistication in the floral realm, a young waiter was presenting a tray of bread from which I chose a Provençal slice discreetly dotted with black olives. The tray was to reappear several times during the meal, so that by the end I had tasted almost each kind, each one smoother and tastier in a background kind of way than the previous one.
The wine list is too long and complex to be discussed in this short article, and I leave it to each one of you to discover for yourself which one fits better your own taste and the dishes you select. Besides, I never drink more than half a small glass of red for lunch, and only on rare occasions, but the Pinot Noir I received was light, fragrant and so joyful that I almost finished my glass.
I loved the bite-sized hors d'oeuvres that suddenly appeared on our table: first there were two little balls the size of an agate filled with rizzotto, presented on a decorative layer of transparent raw rice. They had the finest sautéed crust and the green filling was fragrant and delightful.
The minuscule open-faced sandwich of pâté de foie gras truffe was as delicious as it was fun to eat; then came a rich amber colored "homard bisque" for Marcelline and clam chowder for me; we tasted each other's soups, comparing their smoothness; the bisque was pure velour and the chowder, redolent of summer at the beach, felt like silk We wanted to play with these shiny foods brought in half-filled delicate china to the table by a waiter who seemed to have as much respect for each dish as for each customer.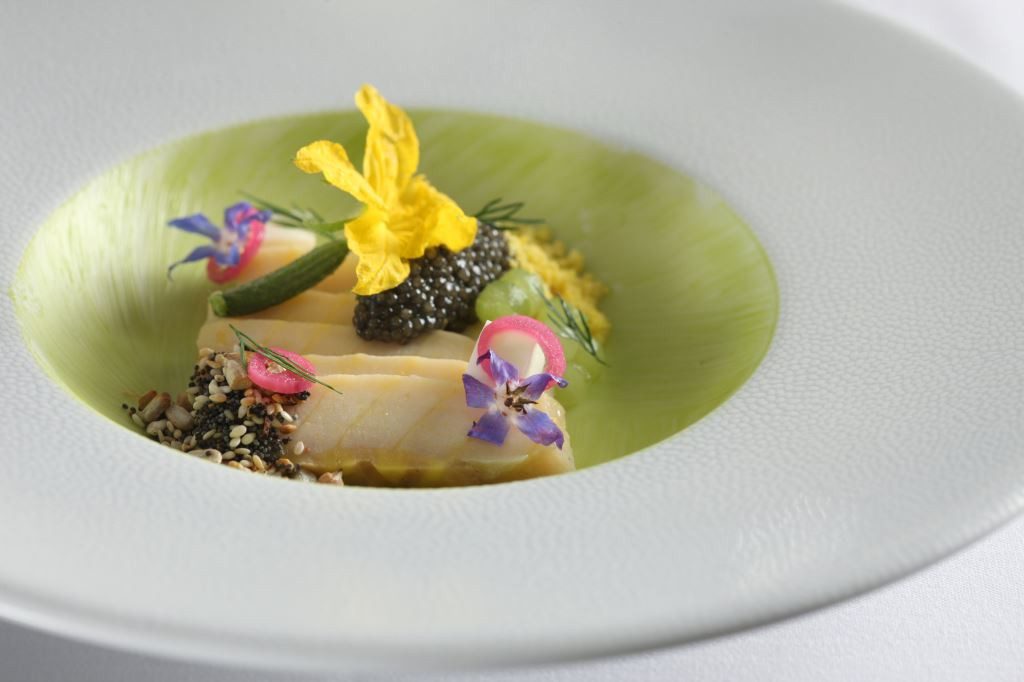 And this is what struck me as the best quality of this great restaurant: the caring with which we are served, the fervour with which our food is prepared, the pride but also true delight that the waiters take at our delight. This is what really differentiates Cafe Boulud from most other restaurants except the great French three stars: Moulin de Mougins, L'Augerge de Lille and Les Freres Trois Gros, for example.
There is something special in those places that each customer can feel: their Chefs love their work, love food, and want us to love it too. We feel a current of human friendliness, a shared kind of conspiracy between the creative culinary genius and the customer in search of a succulent meal. This current of friendship is often formed at a first meal, and that is why we want to return again and again.
To those who have not yet experienced French Haute Cuisine, I recommend Cafe Boulud. The connoisseurs have already found their way to 20, East 76th Street.
If there is an adjective that most continuously represent the food here from beginning to end, it is "smoothness." I tasted ravioli in a delicate pesto sauce; a small dish of the uncontainable onion soup, the best ever; veal cheeks, because I read somewhere, probably New York Magazine, that it is now chic to consume cheeks so smooth it could have been eaten by a spoon. A skate, fluffy and light, that we imagined twisting airily from head to tail with a vibrant body in a blue "Mer Mediterannee" .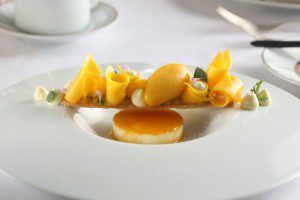 I have not grown up enough to forget my childhood fantasies of a good meal: dessert, after dessert, after dessert: a Vacherin with barely a cloud of maple sauce over sugared pecans hit the spot. We wondered how a pecan could be transformed into featherlike lightness. Marcelline's thyme sorbet was divine. But among the little tray of the best petit fours in the world were tiny chocolate tarts decorated with a large piece of liquid gold.
After such a grand feast that lasted close to two hours, we never felt uncomfortable nor full. What is the secret of Daniel?, we wondered when leaving the restaurant. In fact, we never felt lighter ourselves, and crossed Madison Avenue with an almost dancing gait. What is the secret? How does the magician transform substance into lighter substance, airy and light?
I loved eating gold, remembering the healing power attributed to gold in renaissance times; it was not only luscious but perhaps slightly decadent to indulge in three large drops of liquid gold on a chocolate tidbit.
At Cafe Boulud, I had the smoothest, shiniest, most classic lunch in New York; but I must warn the reader: Cafe Boulud is addictive. It might spoil you forever, and make you crave this cuisine that you won't find anywhere else. It might create a new need in you, that of French Haute Cuisine, this eternal staple of the French bon vivant.
Jenny Batlay, Ph.D.
 Café Boulud is relocating and as of Jan 2023- 20, East 76th Street is temporarily closed