by Lina Courtadiou
Standing still in time on the shady side of West 50th Street, is an authentic French bistro, Chez Napoléon. For the past 40 years this restaurant has catered to theater goers and to a loyal neighborhood clientèle.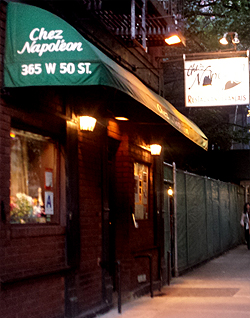 Entering Chez Napoléon, is like stepping into a parisian bistro of the 60's or going into any café in France "profonde." The haunting voice of Edith Piaf fills in the room and the decor has not changed since its original owner apparently an admirer of Napoleon Bonaparte, the murals, for example, depicting historical events of the emperor's life.
Chez Napoléon is truly a family affaire. While you are greeted by Elyane, the daughter and hostess, the grand son Guillaume works behind the bar, the owner-chef, Marguerite Bruno tends to the kitchen since 1982?

Chef Bruno, who is 75 years old, prepares an array of regional classic dishes such as cuisses de grenouille Provencale, escargots de Bourgogne, duck a l'orange, Rognons Dijonnaise. She also offers some of her specialties: lapin Marguerite (her secret recipe), steak a la Guillaume and tripes Nicoises. Besides the large menu selection there are daily specials.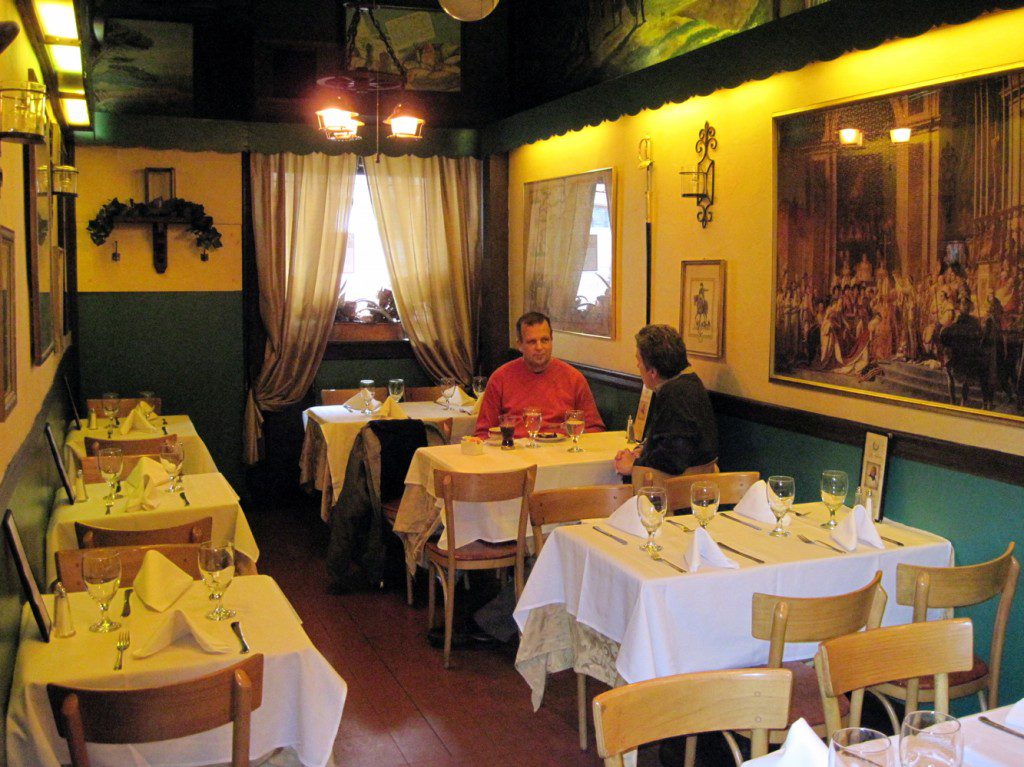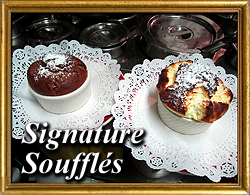 The day I had dinner, quails wrapped in bacon and stuffed with grapes (very good), and coq au vin were among the specials. For dessert (ask in advance if you are on a limited schedule) treat yourself to a soufflé. The Grand Marnier soufflé I ordered came hot, fluffy, while the aroma of the Grand Marnier creme poured over filled the room.
The courteous and smiling waitress, Miss de la Verriere handles the service in the dining room with dexterity. The wine list offers a good selection of French wines at an excellent value, from $14 to $27. If you feel like splurging and celebrating, treat yourself to a 1988 St-Emilion Château Figeac at $60 or to a Champagne.
Mme Bruno will be cooking from 4 to 9 p.m. on July 14th dishes such as boeuf Wellington, stuffed breast of veal and brochettes of sea scallops. You don't have to go far to find a piece of the old France so come celebrate Bastille's Day with this friendly family and enjoy and inexpensive, good hearty meal. Chez Napoleon 365 West 50th St. NYC. Tel (212) 265-6980. Open lunch noon-2:30 (M-F). Dinner 5 to 10 p.m. (M-Sat.). Pre-theater (5-7 p.m. $19.75). Entrées from $14.75. Major credit cards accepted.