METROPOLITAN MUSEUM OF ART
Fifth Avenue at 82nd St, 879 5500
Toulouse-Lautrec. The MET will celebrate the short but dramatic career of Henri de Toulouse-Lautrec (1864-1901) this summer with an exhibition of more than 100 works. Toulouse-Lautrec will include superb portraits and figures studies in oil and gouache, ink and color chalk drawings of animals and circus subjects, and the famed posters made to publicize Parisian performers and nightspots, including the Moulin-Rouge.
During the 1890s, Toulouse-Lautrec virtually reinvented lithography, a printmaking medium that had been introduced in France earlier in the century. This exhibition, in celebration of the bicentennial of lithography's invention, demonstrates Lautrec's dramatically expressive command of the lithographic medium, which he placed at the center of his art in the service of popular press and the Parisian entertainment industry. His posters and portfolio prints made larger than life the colorful world of Montmartre, whose denizens, portrayed onstage and off, were rendered unforgettable by Lautrec's exaggerated distortions and acerbic wit. After discovering color lithography to be both the artistic argot of his time and an avenue to recognition, Lautrec dedicated himself to his process for almost a decade, producing, on average, one lithograph every week. Till September 15
Bare Witness: Clothing and Nudity: exploring the changing of history of fashion and body perception ntury designers are Madame Grès and Madeleine Vionnet. Costume institute, through August 18.
THE JEWISH MUSEUM,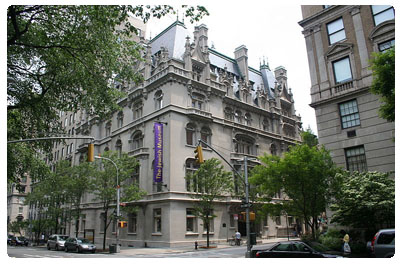 1109 Fifth Avenue, 212-423-3200
Marc Chagall, 1907-1917. An overview of the artist's earlier career, this exhibition follows Chagall's life and art from his hometown of Vitebsk to St. Petersburg and to Paris. One hundred works are included: self-portraits, family portraits, depictions of life of Vitebsk, Paris scenes, and Jewish and Christian religious themes. Many works are from private collections and have never before been exhibited in this country.
Through August 4.
THE MUSEUM OF MODERN ART
11 West 53 Street, New York, NY 10019 Tel: 212-708-9750
Picasso and Portraiture: Representation and Transformation is the first exhibition to study Picasso's career solely from the perspective of his portraits. Through September 17.