Disclosure: This page may contain affiliate links.If you click on them we may earn a small commission.If subsequently you make a purchase, we might earn a little more.As an Amazon Associate we earn from qualifying purchases.There is no cost to you.see
Our Disclosure Policy
for more info.
Princess Diana,John Galliano,Christian Dior, 1997 Met Ball,
Il est certain que les Français ont le goût du paradoxe, et que la complexité de leur caractère les rend particulièrement difficiles à classer dans des catégories bien spécifiques. Celui qui a dit: "toute généralité est fausse, y compris celle-ci", pensait probablement français. Quels sont nos caractères nationaux? La liste serait trop longue, et cependant incomplète, ou même fausse.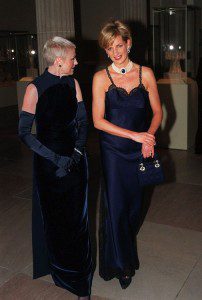 Un exemple frappant de cet esprit de contradiction, si l'on peut dire, est la relation ambiguë du "Français moyen" à la notion de royauté: bien qu'il n'affiche ouvertement pas trop de regrets que l'histoire l'ait débarrassé de la monarchie, même à la façon que l'on sait, il n'en est pas moins vrai qu'il est très friand de tout ce qui touche à la vie des rois voisins, princes et princesses en particulier.

Ainsi Paris-Match, magazine à images parmi tant d'autres vivent les secrets des familles d'Angleterre, de Monaco, de Belgique, de Hollande ou même de… France (le Comte de Paris aspire toujours au trône). Il n'est donc pas étonnant que pour présenter la rétrospective du cinquantenaire du New Look de Christian Dior au Metropolitan Museum à New York, la vedette de la soirée de Gala a été la très belle Lady Diana.
L'exposition des robes du New Look a un aspect enchanteur; ces toilettes surannées sont parfaitement à l'aise, sous vitrine, dans un musée où certains critiques disent (à tort) qu' en fait, c'est là que désormais elles doivent être confinées. On a dit de Dior qu'il fut le Proust de la Haute Couture; comme lui, très proche de sa mère, il tourne ses regards vers les "jeunes filles en fleurs." Écoutons-le: "au sortir de la guerre, je dessinais des femmes-fleurs… tailles fines comme des lianes et jupes larges comme des corolles." (1). Témoin, cette Robe de bal "Odette" (2) en soie blanche parsemée de sombres oeillets (3). Où ces robes de tulle grise à la consistance d'ailes de papillon et toutes prêtes à s'envoler (ce sont mes préférées, ainsi que leurs noms: Vénus, Nuit d'août). Comme Proust, c'est d'une sensibilité et d'un style spécifique qu'il s'agit chez Dior, et qui marquèrent une époque et la cristallisa; d'innombrables imitateurs continuent d'affluer, à la source de l'inspiration. Témoin, la foule de célébrités qui s'est pressée à la soirée d'ouverture… un très grand succès pour le musée. Lady Diana resplendissait, plus belle encore dans sa très simple toilette créée spécialement pour cette occasion par le merveilleux Galliano dont l'énergie créatrice apporte déjà, un brin de romantisme et une touche nouvelle à la maison Dior. On a dansé jusqu'aux petites heures du matin, et les vibrantes toilettes du New Look semblaient franchir l'espace et le temps: déjà cinquante ans, ou seulement cinquante ans… immortelles.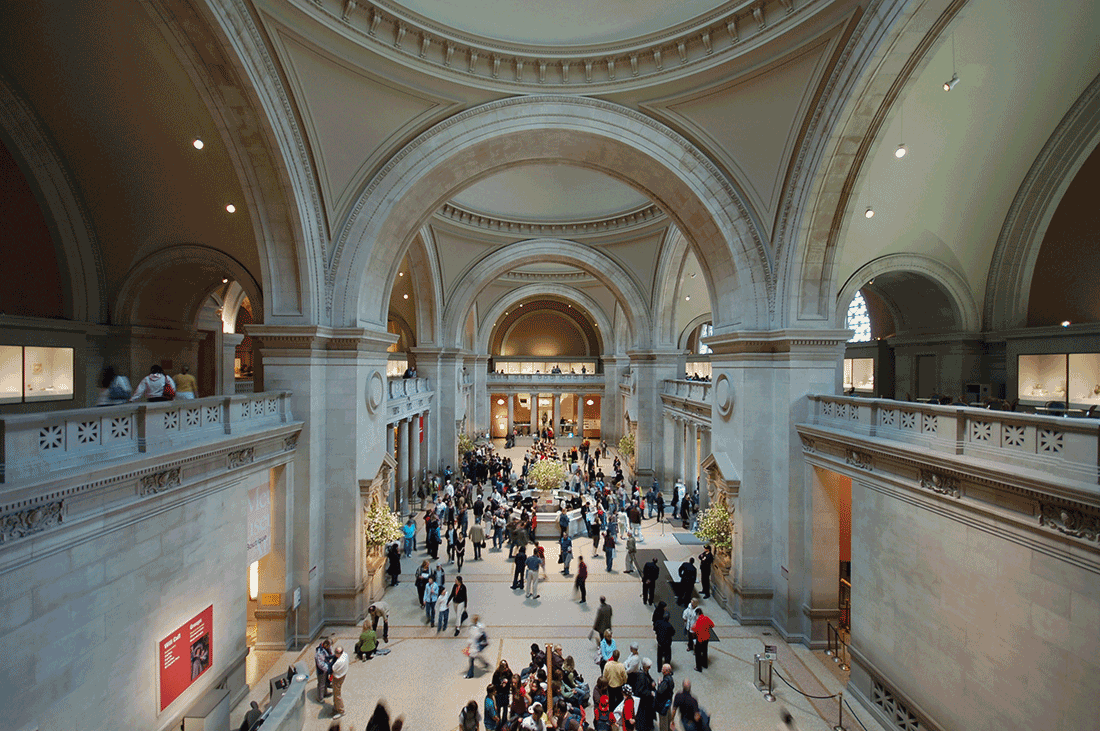 L'article d'Amy Spindler (4), utilisant un ton incontestablement francophobe, m'a surprise et chagrinée. Citant le couturier Isaac Mizrahi:
"The fact that the French have been obsessed with the New Look forever is true. That's why their clothes don't look right." Mrs Spindler continues : "French designers have remained obtuse about everything but one issue, which is making women beautiful at any cost, a practice Mr. Galliano defends." A de telles platitudes, certaine reine eut répondu: "Honny soit qui mal y pense."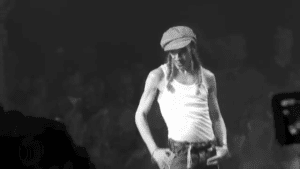 Pour nous françaises, et pour bien d'autres de par le monde, américaines inclues, c'est bien Christian Dior qui nous a le mieux comprises, car il a su donner à nos rêves les corps féériques de princesses romantiques, fussent-elles Cendrillon ou Diane, et a su les vêtir des tulles les plus diaphranes des vestiges de nos idéaux.
(1) Dior, Je suis Couturier, 1951
(2) 1953
(3) Don de Mme Byron Foy, 1955
(4) New York Times, 10 décembre
Legendes:
Diana, Princess of Wales, with Liz Tilberis, one of the event's
co-chairs.
Great Hall of The Metropolitan Museum of Art during reception before
gala dinner sponsored by Christian Dior. Original lost
John Galliano, designer for the House of Dior.Original lost
Courtesy The Metropolitan Museum of Art
Photos by Don Pollard