Disclosure: This page may contain affiliate links.If you click on them we may earn a small commission.If subsequently you make a purchase, we might earn a little more.As an Amazon Associate we earn from qualifying purchases.There is no cost to you.see
Our Disclosure Policy
for more info.
La litérature Française sur le marché Américain
Lorsque Passion Simple, best-seller en France où il avait soulevé une controverse, paraissait aux États Unis en 1993, certains critiques américains s'interrogeaient sur l'avenir dans ce pays d'un tel livre, prompts a souligner le défaut absolu d'émotion et d'intrigue qui font habituellement ici le succès des histoires, en particulier des histoires d'amour.
Il faut croire pourtant qu'Annie Ernaux a trouve un public en terre américaine si l'on en juge par la réédition cet automne, en format de poche, de Les Armoires vides (Cleaned Out) et de La Femme gelée (A Frozen Woman).  Son dernier livre, Journal du dehors, parait en outre chez Seven Stories Press en octobre, sous le titre Exteriors.
Si qualifier cet écrivain de féministe s'avère un peu réducteur, il est sans doute vrai qu'Annie Ernaux a trouve sa voix la plus juste dans ses récits, qui sont plutôt des méditations, sur la condition féminine. Son premier roman, Les Armoires vides, donnait le ton, amer et parfois brutal, relatant le combat social et moral d'une jeune femme de la génération d'après-guerre aux prises avec son passe et les conséquences d'un avortement. Avec La Femme gelée,  Annie Ernaux persiste et signe, sur le mode autobiographique. C'est cette fois l'histoire sans drame d'une femme qui a tout pour être libre,  jusqu'à la volonté de l'être, et se laisse pourtant prendre dans les rets d'une tradition dont la modernité n'a fait qu'augmenter les contraintes.

Le Journal du dehors change le décor et nous place, a travers une série de notes prises dans la rue, le métro, les supermarchés de la banlieue parisienne, au coeur de la vie ordinaire et de ses conversations indifférentes, de ses jeux sociaux implicites, de ses petitesses et de ses vanités. Bref, face a nous-mêmes, acteurs presses d'une société fonctionnelle. Malgré quelques facilites de langue et de jugement, un grand coup bien place.
* Journal du dehors, Gallimard 1993 (Exteriors, Seven Stories Press 1996)
* La Femme gelée, Gallimard 1981 (A Frozen Woman,Four Walls Eight Windows 1995, Seven Stories Press 1996) 
* Les Armoires vides, Gallimard 1974 (Cleaned Out, Dalkey Archive Press 1996)
Pig tails: rentrée fracassante
pour une histoire de cochon
Marie Darrieussecq, alias l'événement littéraire de la rentrée 96. Vingt-sept ans, ancienne élevé de l'École Normale Supérieure et professeur d'université. Son succès était inattendu: Truismes est un premier roman écrit en quelques semaines, expédie au printemps dernier a POL, un éditeur discret, par la poste. Un mois a peine après sa parution en France, tout le monde en a entendu parler, la presse se déchaîne, 25000 exemplaires s'arrachent par semaine et les droits ont déjà été rachetés a l'étranger, y compris aux États-Unis. On commence même a se demander si cet engouement n'est pas excessif, ce qui n'est pas le moindre signe de son succès.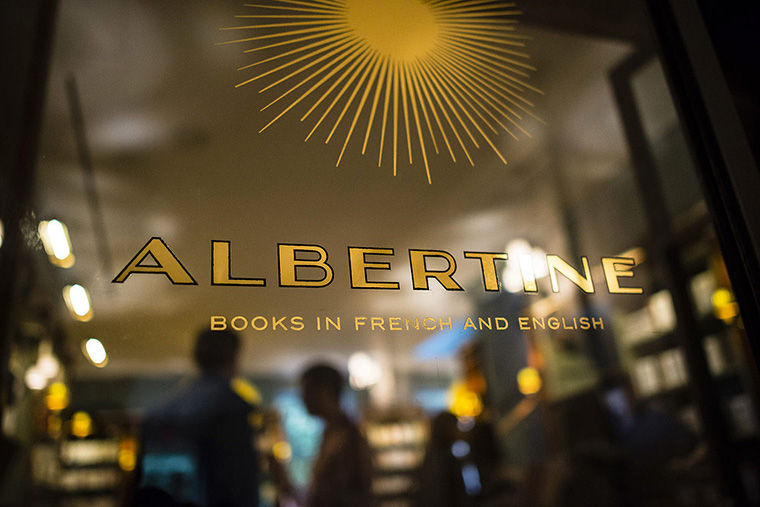 Jeune et fraiche employée d'une parfumerie un peu spéciale, la narratrice de Truismes relate la lente métamorphose qui fait d'elle un membre de la gent porcine, pour tout dire une truie, son errance dans un monde acquis à l'idéologie de la propreté, physique, morale et politique. Ce monde appartient a un avenir proche et ressemble au notre. La satire et la fantaisie s'emballent avec l'irruption d'un loup-garou, se traine un peu sur la fin. Le récit est frais comme son héroïne, ingénu comme sa prose simple.
Lisez-le, il vaut la peine de voir ce qui se fait de nouveau en France.
Truismes, by Marie Darrieussecq. POL.
Pig Tails, to be published at The New
Press in May 97
Rubrique réalisée avec l'aimable collaboration du Bureau du Livre Français à
New York.
BOUQUINS: VENTE DE LIVRES FRANÇAIS
+1 212 876-2065
Par Correspondance: P.O. Box 6676, New York NY 10128-0016
Nos Livres Sont Moins Chers qu'En France
Catalogue sur Demande; Livraison: Amériques

JAN 2023 THIS CONTACT IS NO LONGER IN BUSINESS
Check also: