Disclosure: This page may contain affiliate links.If you click on them we may earn a small commission.If subsequently you make a purchase, we might earn a little more.As an Amazon Associate we earn from qualifying purchases.There is no cost to you.see
Our Disclosure Policy
for more info.
La fougue du romantisme alliée à la grandeur du néoclassicisme, voici la clé de l'œuvre d'Anne-Louis Girodet-Trioson, à qui le Metropolitan Museum of Art consacre en ce moment une grande rétrospective. Élève de Jaques-Louis David de 1784 à 1790, il s'astreint dans un premier temps à imiter son style néoclassique qui domine la scène parisienne d'alors. Mais ne pouvant plus refouler ses pulsions créatrices et sa soif d'exaltation du sentiment, il finit par se révolter, et brise les chaînes de la rigueur inculquée par son tuteur. Cette libération aux accents romantiques lui valut de son vivant une consécration sans égal, puisque l'élève dépasse même le maître avec son chef-d'œuvre Scène du déluge, qui est élue meilleure peinture historique en 1810 face à l'Enlèvement des Sabines réalisé par son aîné. Hélas, cette reconnaissance éphémère sera éclipsée par la postérité au profit du grand David.
Princes mamelouks et sultans enrubannés se pavanent dans la galerie de portraits rassemblés par le Met, tandis que des divinités celtes accueillent les âmes des héros français dans un monde baigné de mythes, de symboles et d'allégories dans la série consacrée aux légendes celtiques. Le romantisme prend forme et se manifeste dans ce goût pour l'orientalisme et cette ferveur dédiée à l'imaginaire collectif, le tout agencé selon les seules lois logiques de l'esprit fécond de l'artiste. Une invitation donc à faire triompher le sentiment contre la raison, à s'ouvrir au mystère et au fantastique, à explorer le morbide et le sublime, l'exotisme et le passé idéal. Même lorsque Girodet garde de son maître l'influence néoclassique, ses œuvres en acquièrent une dimension supérieure, majestueuse. La réalisation des corps et des drappés en constitue une parfaite illustration, et l'on constate que dans un sursaut classique, il ne peut se délester du fameux profil grec, directement hérité de la grande civilisation hellénistique, et qu'on retrouve tout au long de l'échantillon exposé au Met.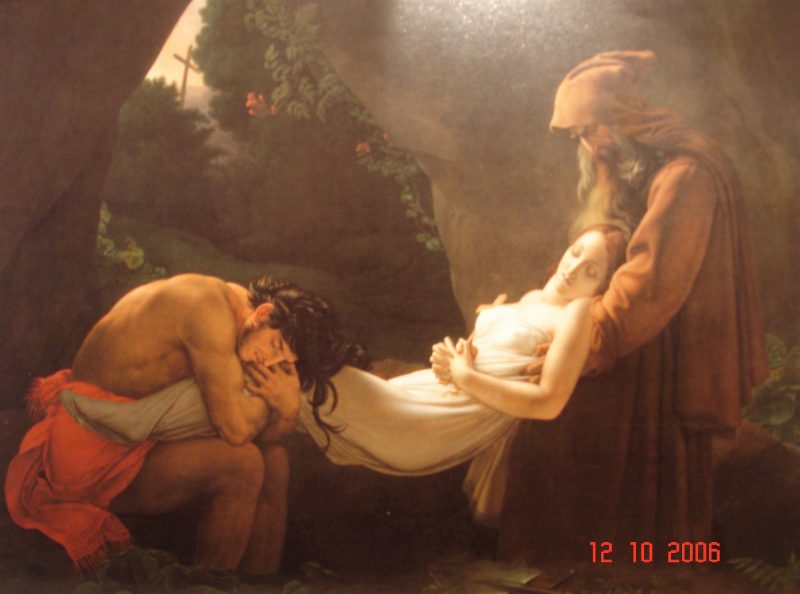 La campagne égyptienne de Napoléon, les mythes et légendes, les illustrations d'œuvres littéraires, les portraits, sont autant de sujets mis en scène par le jeune peintre. Les techniques utilisées sont tout aussi diverses : toiles peintes, gravures ou esquisses, du noir et blanc aux couleurs éclatantes, on a rarement vu une œuvre aussi complète que celle de Girodet. Le Metropolitan Museum of Art de New York a su valoriser cette richesse et en jouer pour le plus grand plaisir du visiteur. Tableaux gigantesques et portraits à l'expressionnisme saisissant étincellent sous une lumière franche. Alors qu'au contraire, les œuvres de moindre taille sont éclairées par une lumière douce qui nous invite à nous en approcher, plongés dans l'intimité tamisée. Intrigué puis amusé, tout un chacun pourra reconnaître une scène d'Andromaque, un mythe celtique, grec ou chrétien, dissimulé sous les coups d'une peinture qui semble vivante et mouvante entre les quatre coins du petit cadre.
Le style de Girodet, son double héritage, mais aussi la finesse du trait et la justesse avec laquelle le peintre capte des bribes de sentiments et d'émotions qu'il immortalise sur sa toile, en font un artiste hors pair. Pénétrer dans cette exposition donne le sentiment d'entrer dans une sorte de jardin apaisant. Le visiteur semble absorbé par la splendeur de ces œuvres, un silence quasi religieux y règne, et il fait bon céder aux délices de l'art. Alors un conseil, quittez le brouhaha de Manhattan et venez vous réfugier dans ce havre de paix et de tranquillité si vous en avez l'opportunité. Octroyez-vous un moment privilégié pour oser l'évasion et le ravissement dans un rêve romantique.