Disclosure: This page may contain affiliate links.If you click on them we may earn a small commission.If subsequently you make a purchase, we might earn a little more.As an Amazon Associate we earn from qualifying purchases.There is no cost to you.see
Our Disclosure Policy
for more info.
Today is a day I've been looking forward to, but also dreading. It's never easy to retire when you've loved your work, performed with passion and endurance for fifty long years. Of course, rest is well deserved. But you leave behind a lifetime of memories, enveloped in a certain melancholy – quite normal – of the time spent learning, experimenting and loving your craft.
I first learned from my father, because cooking is rooted in tradition. He was chef at the Grand Creux restaurant in Bourg de Thizy, a former commune in the Rhône region that is now known by a different name. I spent part of my childhood watching my father in the kitchen. The chef's job is much more than just handling the stove: you have to plan orders and menus, organize food management, have a good network of contacts for sourcing, maintain links with producers, know how to be close to your customers and their expectations, and always keep up the pleasure of new finds and experimentation, among other things. It's a deeply human, demanding profession, where all five senses have to be on the alert at all times. Over the years, from my father's kitchen in the 1960s to mine in Magog in 2022, I've seen how this profession has changed at an incredible speed.
At the age of 15, in early 1971, my apprentice master Charles Bonnamy took me under his wing at his restaurant in Morancé, in the land of golden stones. After a three-year apprenticeship, I trained in some of the best establishments in the Lyon region, including the illustrious Paul Blanc's in Thoissey and Orsi's in Lyon, where Michelin stars shone. It was a time when installations were still those of an ancient era, destined to be overturned by technical progress in the years to come. In Thoissey, the monumental furnace in the center of the kitchen was still coal-fired. Dating back to the 1930s, it was a monolith, the real engine of the kitchen, which had to be meticulously tended and sweated out with coal. I remember the day we had to change it. The operation was delicate, as the monster was so heavy, as if it were rooted in the ground. Chef Paul Blanc, a proud and tough man, was crying his eyes out. This scene left a deep impression on me. I was being formed at the same time as a new world was replacing the old, at the cost of the tears of its best craftsmen.

Everything was so different. The fish was kept separately on fresh ice. Days off were dedicated to the farm, where we would kill the pig and collect the raw milk in 25-liter cans. Once in the kitchen, we did the pasteurization work ourselves, and recovered the cream on the surface. It was still possible to fish for wild trout in the Azergues, the river that runs through the Beaujolais mountains. There were still salmon in the majestic Loire, as well as crayfish. The same was true of the numerous mushroom gatherers who came knocking on the kitchen doors, or the game hunters with their tasty catches: woodcock, hares, wild rabbits, partridges, pheasants… all of which were sold directly into the kitchen after a few appropriate discussions.
In 1979, my wife Marie-Claire and I became owners of our first restaurant: La Terrasse, in Marnand, a tiny village in the heart of the Rhône region. This is where the transition took place, with no turning back. Coal has been replaced by gas. Slow cooking techniques have given way to fast ones. Braising and stewing have gradually but rapidly disappeared in favor of induction. I remember this man, Georges Pralus from Roanne, who came to my restaurant to teach me a revolutionary new technique he had perfected: sous-vide cooking. Today, this practice is used worldwide. It's worth noting the growing interest in a return to slow cooking. Perhaps we're realizing that the development of these fabulous new techniques has also caused us to lose something more down-to-earth, a knowledge that is determined by patience and observation.
In 1987, I left Marnand for Lyon. I was becoming a young chef promoted to the major leagues, those of Lyon's cuisine, as grandiose as they were cruel. It was there, on November 17, 1991, that I was inducted as a member of the Toques Blanches Lyonnaises, a great honor. As chef of the Au Petit Col restaurant in the center of Lyon, I became the guarantor of a very specific culinary heritage, that of Lyon's gastronomy, a veritable stronghold of French cuisine. A year earlier, in 1990, I had won third place in the national Délices d'Or competition in Paris.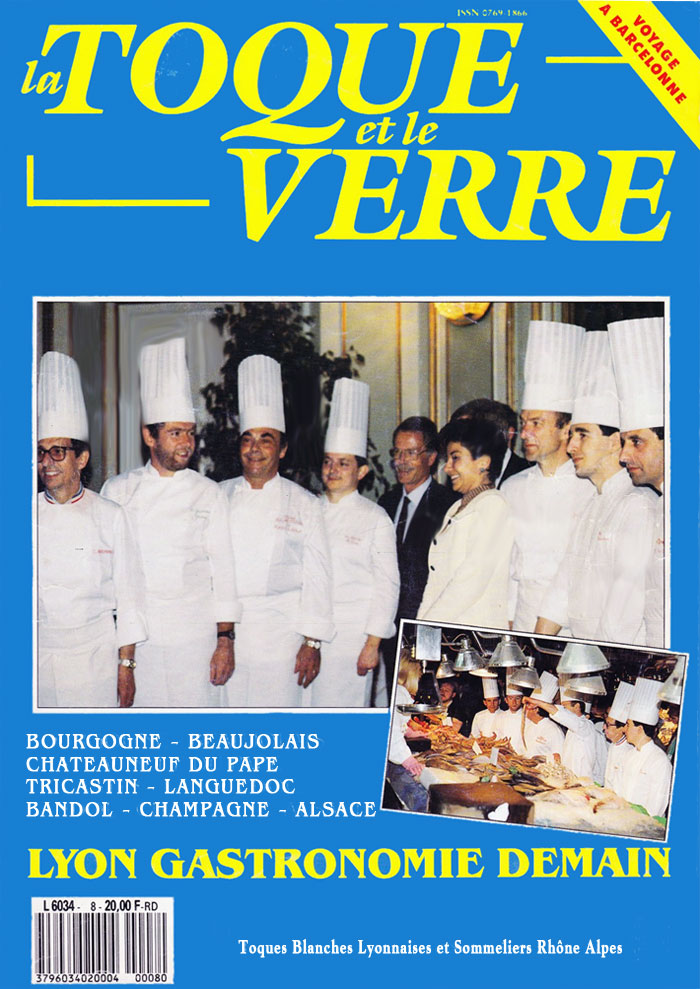 Then, in 1992, I worked as a senior executive at Dassault, the famous French aviator, in Istres, Provence. A combination of circumstances, let's call it destiny, meant that my future was now linked to aviation companies. After cooking at Dassault for a number of political and business personalities, such as former French Prime Minister Pierre Bérégovoy, I left France for Montreal with my family. On the eve of my 40th birthday, I started a new life with my wife and lifelong partner, Marie-Claire, and my two children, Julien and Pierre-Luc.
The first days on a new continent are not the easiest. But I persevered, and from 1997 onwards, I worked as executive chef at Bombardier in downtown Montreal, then as personal chef to the company's long-time president, Laurent Beaudoin. I was a long way from Thoissey's old coal-fired furnace. My career had taken a turn I could never have imagined when I was still a child of my native Beaujolais region, with its farms, small villages and many gastronomic treasures, some well known, others kept secret in the intimacy of farming families. But with no regrets, I moved on and discovered a place in Quebec rich in terroir and beauty I'd never known existed.
In 2013, on the eve of my 60th birthday, I wanted to experience one last challenge before retiring. I left my job with the Bombardier family to set up, as in the good old days, a restaurant-caterer to experience once again the pressure and demands of cooking and serving. Once again, Marie-Claire, without whom none of this would have happened, was by my side. Together, we set up Goût et Saveurs, and today we're retiring together, after all this time, these ups and downs. What an adventure it was!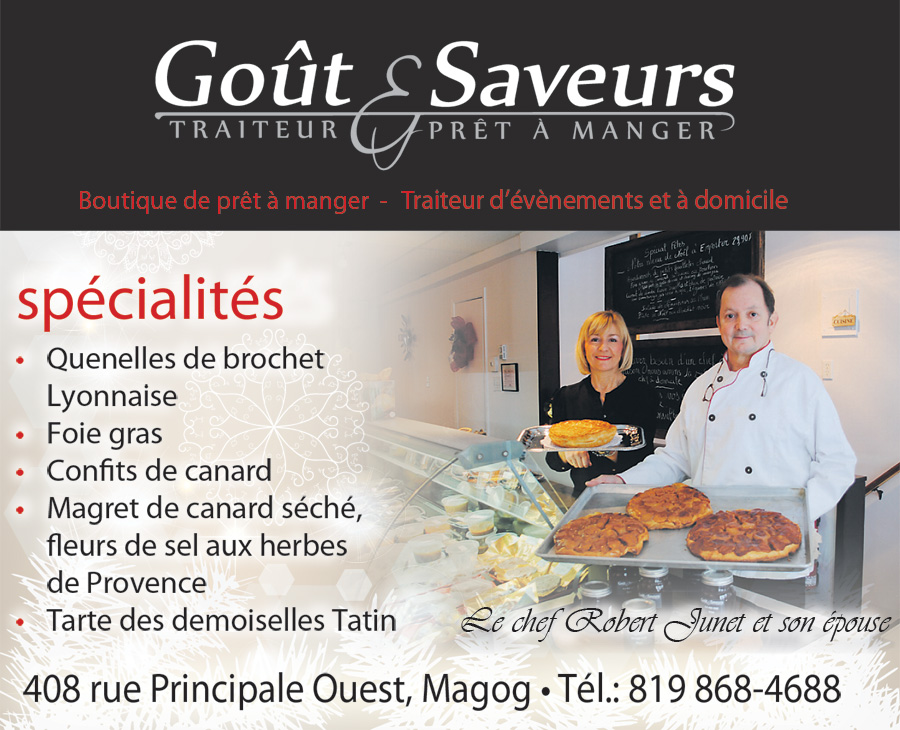 We'd like to thank all our customers and everyone we've worked with over the years. You who have honored us with your orders, made a detour to our boutique or taken the time to dine at our table. You, whom we have met at meals and catering services. You who, one day, offered us the chance of a meeting, an opportunity, a job. You with whom we shared. I was saying that the world of cooking is profoundly human. Without this relationship that weaves the threads of a shared experience, we wouldn't be here. And it's with a sense of gratitude and accomplishment that today, with great emotion, I turn off my stove for the last time.
Thank you and best wishes,
Robert Junet
Chef de cuisine