Disclosure: This page may contain affiliate links.If you click on them we may earn a small commission.If subsequently you make a purchase, we might earn a little more.As an Amazon Associate we earn from qualifying purchases.There is no cost to you.see
Our Disclosure Policy
for more info.
The Bordeaux Wine Trade:
There are many Chateaux and domaines in Bordeaux that welcome visitors either throughout the year or just the summer months.This is a guide to visiting Bordeaux vineyards and lists some of the wine producers as well as resources to plan a wine tour of this famous region.   
After Marseille, Bordeaux is the oldest trading port in France. From Roman times the export of wine was the basis for a modest prosperity but under English rule (1154-1453), the merchants began making immense fortunes from their monopoly of wine sales to England. After the discovery of the New World, Bordeaux took advantage of its Atlantic position to diversify and extend its wine market. Today the Bordeaux region produces over 44 million cases of wine per year.
The châteaux are at the heart of the quality system in Bordeaux, the world's largest fine wine region. A château includes a vineyard and a building, which can range from the most basic to the grandest, from historic to modern. But, the château is also the symbol of tradition and of the philosophy that a wine's quality and character spring from the soil. Some châteaux welcome visitors for wine tasting as well as buying. The Maison du Vin and the Office de Tourisme in Bordeaux are good places to find information and are situated close to each at 3 and 12 cours du XXX Juillet respectively.

At the latter you will find precise information such as maps, vineyard guides, information on each district or appellation, in English, French, German, and many other languages as well as a host of tours.https:
At the former you will be able to attend a wine tasting in the wine bar or take a course at the École Du Vin.
There are 6000 different châteaux in the region so it would be impossible to list them all.
Lefrancophile has however listed some that have come with recommendations from our readers together with contact or reservation details.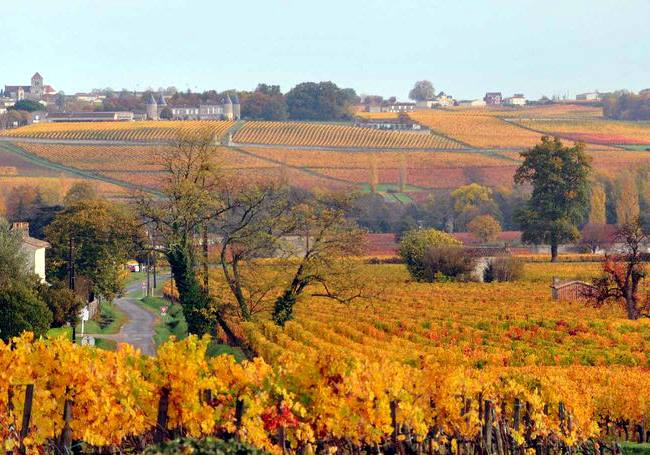 Margaux:
Château d'Arsac, Margaux – The history of this property goes back to the twelfth century. The castle has been owned by some very famous people such as Etienne de la Boétie, Thomas de Montaigne and the Comtesse de Ségur. This "Folie Bordelaise" mixes the past and the future. The wine cellar is a gigantic vat, the only blue vat in the Médoc, there is also an ultramodern wine-barrel cellar. Contemporary art is displayed throughout the working areas.
Visitors are free to walk in the parc 0900 to 1700 throughout the year and there are various tours and tastings between these hours which require booking.Details for visits click here

Château Lanessan, Musée du cheval, Margaux – In the heart of the Médoc, this "Grand Cru" opens its wine cellar to the public. Visitors can also discover the equestrian museum with its family collection of saddles, carriages and horsey things dating from the last century. Open for tours low season 1000 to 1700 – high season 1000 to 1800 and at weekends between May and September.Details for visits click here
Pauillac:
One of the most famous areas in the Médoc wine region is the commune of Pauillac. The town of Pauillac is on the west bank of the Gironde. In the 19th century it was the bustling arrival point for transatlantic steamships, but now pleasure boats mostly use the sleepy port. There are picturesque river views from the quays and plenty of cafés serving the local wine.
Three of its chateaux are premier grand cru classé de Bordeaux selon la classification officielle des vins de Bordeaux de 1855 of the five that have that distinction.
Chateau Mouton-Rothschild uses leading artists to create its wine labels and houses a small museum of paintings on wine themes from all over the world. Tour to this magnificent estate need to be booked at least 2 months in advance.Details click here

Chateau Lafite-Rothchild is of medieval origin visits need to be booked well in advance Details click here
Equally deserving of a visit in Pauillac:
Domaine les Sadons This is a family owned estate of just 87 ares making it the smallest vinyard in Pauillac.Run with the help of their friends and producing around 6000 bottles each vintage from 3 grape varieties Cabernet Sauvignon,Merlot and Petit Verdot this vineyard is a treasure and should not be missed.Details for visits click here

St-Émilion:

To most people, St-Émilion is the appellation of a fine red wine. It is, however, also the name of a charming village in the middle of the wine-growing district. Its origins go back to the 8th century when the hermit Émilion dug out a cave for himself in the rock. A monastery followed, and by the Middle Ages St-Émilion had become a small town.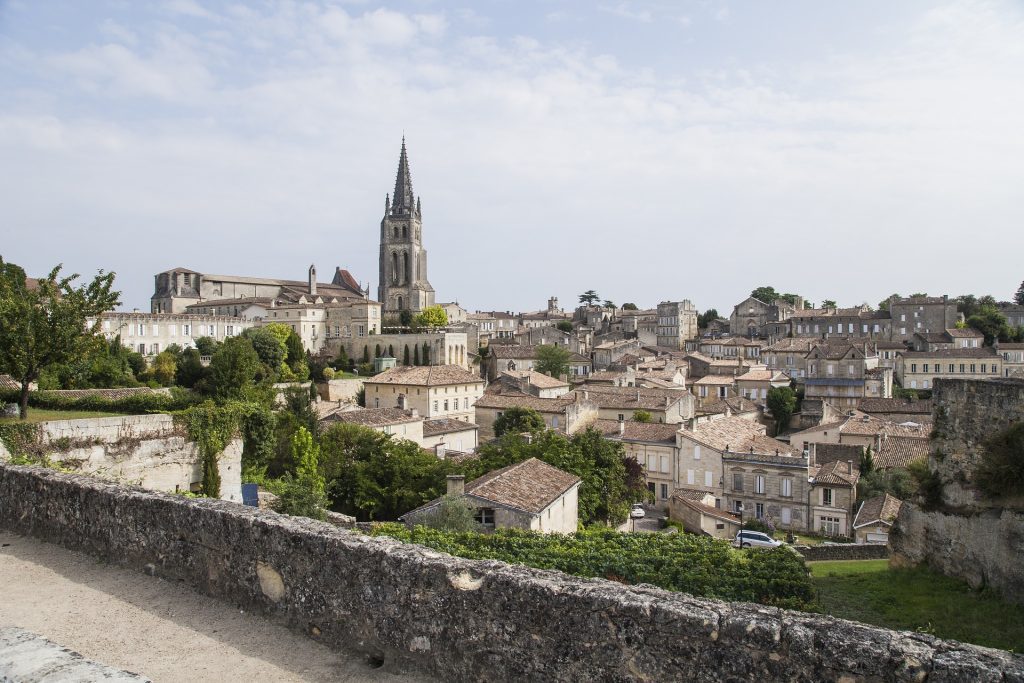 Today medieval houses still line the narrow streets, and parts of the 15th-century ramparts remain. There is also an interesting monolithic church, dug out of the chalky cliff by followers of Saint Émilion after his death.
Famous châteaux in the district include the elegant Figeac, Cheval Blanc and Ausone, all of them St-Émilion Premier Crus Classés.
Of Special Interest
Le Train des Grands Vignobles – Saint Emilion – During 35 minutes, discover by train the most prestigious châteaux of Saint-Èmilion, as well as the vineyards and monuments. Commentary in French and English. Departure every day from June 1st to November 30th, and Sundays and National Holidays in Winter in an enclosed train.      Details click here
Château Rochebelle, Saint-Emilion Grand Cru Classé, covers 3 hectares of vines in this family-run wine estate dating back five generations and with a superb view over the Dordogne valley. . The vineyard is planted with 85% Merlot and 15% Cabernet Franc and the plants boast an average age of 45 years.Barrels are stored in stunning monolithic caves.
1st April to 11th November:Open every day0930-1200 and 1400-1800 Winter period:Open Monday to Friday0930-1200 and 1400-1800.
You can co ordinate your visit to this estate with the Train des Grand Vignobles or independently
Booking details click here Tel.+33 5 57 51 30 71
Ecomusée du Libournais, Musée du Vigneron, Montagne:At the end of 2016, the EcoMusée de Montagne closed its doors. The Libournais Ecomuseum Association continues the adventure with new projects and is deserving of support. Currently the temporary exhibition is held in a room at Château Petit Faurie de Soutard 33 330 Saint-Emilion.
Information and reservation by appointment click here                     tel+33 6 37 64 81 36

For more information about what to see and do in saint-Émilion,     contact the Office de Tourisme de Saint-Émilion                                   Place des Creneaux, 33000 Bordeaux.                                            Open 7 days a week in the summer 1000 to 1300 then 1400 to 1800.
Tours of the city, monolithic church, catacombs, Saint Èmilion's cell, cloisters. Tours of the vineyards are also available