Disclosure: This page may contain affiliate links.If you click on them we may earn a small commission.If subsequently you make a purchase, we might earn a little more.As an Amazon Associate we earn from qualifying purchases.There is no cost to you.see
Our Disclosure Policy
for more info.
By Jenny Batlay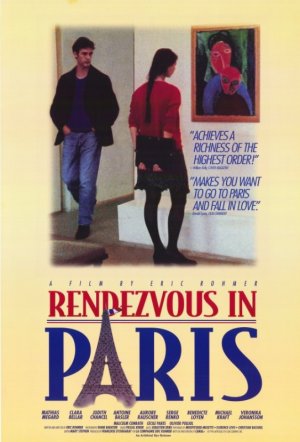 "Les Rendez-vous de Paris", is the 27th film of the famous French Director Eric Rohmer whose well-known "Moral Tales" "Comedies of Proverbs" and "Tales of Four Seasons" among others, have intrigued and been acclaimed over the past thirty years by literary critics, film juries and the public. Everyone has a "favorite" Rohmer, and mine is Pauline at the Beach. Rohmer's predilection for slow pace and lengthy dialogue, set in beautiful scenery in which the protagonists, mostly belonging to a certain upper crust section of society, has sometimes been criticized for being "elitist" or addressing only the concerns of the "bourgeois" which are elegant, sophisticated, or on vacation. Rohmer relishes these moments of idleness that make possible the adventures of the mind and heart. One has compared the milieu represented by Rohmer to that of Woody Allen, but whereas Allen's emphasis is on the comic awkwardness seen by the eye of an "outsider," Rohmer is perfectly at ease in this milieu of "beautiful people", or "gens bien élevés" and therefore the atmosphere is harmonious. As opposed to Allen, the comic outsider, Rohmer is the insider par excellence.
In "Les Rendez-vous" Rohmer has reached a new height from which he can see the little waves caused by l'amour et ses intrigues. Foreigners who misunderstand France and use stereotypes (such as that we are only interested in gastronomy, fashion, discourse and love) will think that in this movie the only concern is love (and, of course, the discourse about it). Like if there was ever anything else! This film treats it most gracefully in three vignettes, one more intriguing that the other, that are as light and heady as a flute of Veuve Clicquot. In the three vignettes, the girls are uncannily similar in their "longiligne", long haired sophistication. We see them walk on well-know Parisian landscapes. Oh, what a treat is this tour of the beautiful Parks, the romantic fountains, including even a grand tour of the Musée Picasso. Rohmer knows how to treat his guests he shows us what we want to see from our armchairs, what we long and fantasize about Paris, which is unmistakably the world architectural masterpiece. In this film (not a documentary) the viewer is invited to spend 100 minutes in the life of a few lovely woman.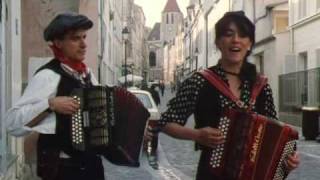 In the first vignette, the "Seventh O'Clock Rendez-vous," a young woman, played by Clara Bellar, is made progressively aware that her lover might be unfaithful an open-heart dialogue la Rohmer follows between Clara and a woman friend. When we inadvertently encounter the "other" women (who is as witty and delightful as anyone else) nothing terrible happens of course, this is not Fatal Attraction. Jealousie? It is a mere pinch in this atmosphere of light games where bienséance is almost as relevant is love, but a love as tamed, bien élevé thinned through lucid observation and intellectual discourse. The chagrin is quickly swallowed. If in the end the cheater is cheated, it serves him well, et voilà!
The second vignette, "The Benches of Paris," is a playful duo between a student and a professor who frolic along many beautiful touristic Parisian spots. The couple seems to follow the rules of a modernized version of some Carte du Tendre (as well as a map of Paris) in which the lady bestows only what favor she wishes to a kiss near a capriciously selected fountain (and no kiss near another one, that would be considered "cheating" on the man with whom she still lives but plans to leave someday), a hug here but not there. The choreography of their jeux is seemingly spontaneous, yet also calculated for its effect on the viewer (there are several levels of cinéma: the play this twosome give each other, the performance for the passerby within the movie, and for the viewer in the theater.) The girl's gait and demeanor on her exquisitely thin high heeled legs is a dance. She teases, provokes and gracefully escapes, yet she never forgets her serious discourse about her love behavior that her patient lover-in-waiting, or admirer, tolerates, however not without some witty comments which shows that, although taken, he is no dupe. Are these characters a bit narcissistic? Perhaps, but they are so slightly self-absorbed that we are amused as well as amazed and cannot stop watching. If the viewer is made to be a voyeur, don't expect any erotic scenes heavens forbid!  here all is in tout bien tout honneur and Rohmer's charm is to barely touch and immediately go, at a swift pace that is like the swing of a Watteau's balançoire. These games of hide-and-seek are the modern counterpart of the marivaudages of the 18th century. Plus ça change, plus c'est la même chose.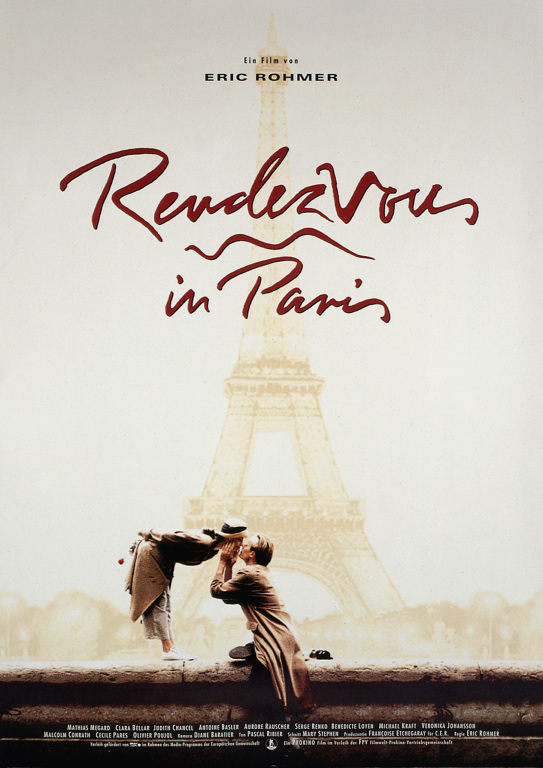 The last vignette differs in formula: at the onset, there is no established love relationship, and at the end no ironic twist. A vapid painter takes a gorgeous Swedish visitor (and we get to go along) to the Picasso Museum, a favorite of all, and in the process encounters a French nymphette that he decides to follow. The Swedish girl is exactly what the French believe a Swedish girl should look like she walks through Parisian streets with the self-confidence of her perfect blond beauty she makes silly comments about art which proves how shallow or at least how culturally inferior the Swedes are. She is unfavorably compared to the sharp, brilliant (and also beautiful) Parisian girl, who, of course, has class. In front of Picasso's Mother and Child, the Swedish girl comments laughingly: "This is a ham, and that is a steak." No dear: "This is a mother, and that is a child." In front of a crowd scene in the artist's studio, she bursts into laughter: "these people look like if they are out of a concentration camp. Ah, ah, ah. I don't like it." This is the most controversial sentence (the only one) in the movie. We, French, are a verbal nation, we are civilized, we intellectualize. The French girl that the painter follows has all the qualities that the Swedish girl lacks a bit of chauvinism in this stereotype? Yet, the male, like in the two other vignettes, comes out bredouille. In this movie, the male's occupation continues to be hunting, but the female always vanishes.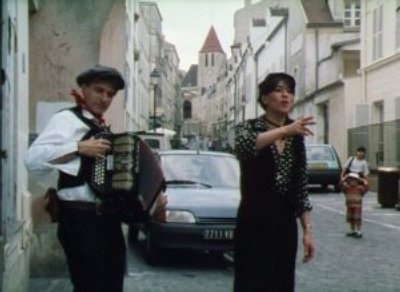 I enjoyed tremendously this last Rohmer, perhaps because in its seemingly innocence, it is not truly about nothing. It is about something, about art and beauty, about the need to play and to euphemize, about the savor and flavor of a society that is perhaps in danger. We love Paris the way it is, and the way Rohmer tries to preserve it for the connoisseur present and future. And all these sophisticated, lucid games about love's elusive nature, about self absorption and a certain desire to "cease the day" that smoothness la Wateau that puts make up on life's bitter lessons this makes Les Rendez-vous de Paris a real gem, a collector's item, a true incredible lightness of being.
Rendez-vous in Paris Starring Clara Bellar, Antoine Basier, Aurore Rauscher, Serge Renko, Michael Kraft, Benedicte Loyen. In French with English subtitles. Running time: 100 minutes. Lincoln Plaza and Quad.