Disclosure: This page may contain affiliate links.If you click on them we may earn a small commission.If subsequently you make a purchase, we might earn a little more.As an Amazon Associate we earn from qualifying purchases.There is no cost to you.see
Our Disclosure Policy
for more info.
Sending flowers in France? Too many or too little options to choose from? Are you confused about all the choices and extra charges? Should you buy online or from a flower shop?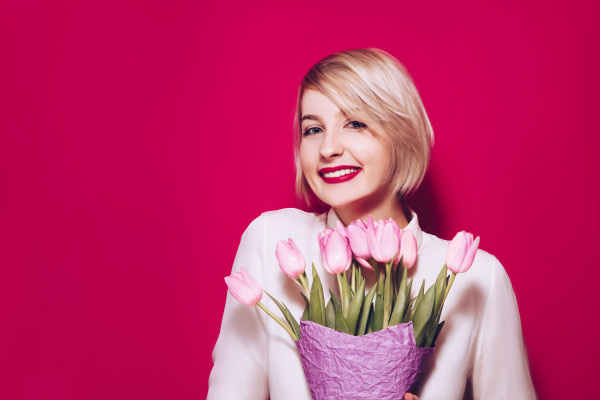 If you are still convinced the old-fashioned way is the best way, let us show you how sending flowers can be as easy as counting to three.  These days, everything can be done online. Why not sending flowers? Even if you love spending weekends at flower markets, getting flowers as a gift for your loved ones is not always practical to arrange. Online florists offer a convenient alternative to traditional shops, giving you the option to brighten up someone's day in just a few clicks. That way you are saving both time and money – instead of driving to the flower shop you can order from the comfort of your sofa and enjoy some superb discounts and offers.
Here are 7 tips from an expert florist for shopping blooms online:
1.   Check delivery charges
Be careful where you shop. Sometimes cheap bouquet prices are only designed to lure you into the trap of paying excessive amount for delivery and other extras. Make sure that the florist offers free delivery. Some will even throw in a free greeting card, like Hipper.com.  If you require a specific delivery time, be prepared to pay extra – these charges tend to be the highest.  Delivery on weekends is also more expensive.

2.   Research quality and reviews
There is nothing worse than spending a fortune on a pretty bouquet only for it to turn up half dead. Research the florist before you purchase and make sure you can find some good reviews and images of products from customers.
3.   Choose flowers carefully
Certain types of flowers are more prone to get damaged during delivery, so you can keep that in mind too. If you see a bouquet with lilies, check that they are delivered in a bud form – that way they are protected and the recipient can enjoy them for longer. Same goes for roses – these should be sent ideally in extra protective sleeve so the outer layers stay without harm during delivery.
4.   Courier vs florist delivery
Did you notice many online flower shops advertise florist delivery as one of their key selling points? It's not always an advantage. By sending your order to a local florist, you will never be able to guarantee that the blooms they use are the freshest and that the bouquet will resemble exactly what you ordered. Sometimes local shops don't have all the stems required for the bouquet you ordered, so they will use supplements. As a result, the bouquet that will be delivered can vary from what you have ordered online.
5.   Add a vase
If you want your gift to make the best impression, you can add a vase in which it will travel. It will add a little extra layer of security for possible water leak. Without a vase, the flowers are usually sent in a cellophane which is filled with water for the journey. If the package is not handled correctly, the cellophane can get damaged and the water will leak everywhere.
6.   Don't forget a message
If you are ordering flowers online, it's crucial to make sure you leave your name in the greeting card. Florists will not reveal your identity to the recipient, unless they get your permission to do so. If you want to send flowers anonymously, it's perfectly fine to leave out your signature.
7.   Know your rights
If the flowers delivered do not resemble what you ordered online, or even worse – they are wilting away, don't hesitate to ask for a refund or replacement. Reputable online florists will have no objections to send you a fresh bouquet or refunding your payment. Keep in mind that a proof of the delivery and condition of the flowers may be required, so take a picture of the bouquet before you bin it.
Cover Photo by: TheCulinaryGeek