Disclosure: This page may contain affiliate links.If you click on them we may earn a small commission.If subsequently you make a purchase, we might earn a little more.As an Amazon Associate we earn from qualifying purchases.There is no cost to you.see
Our Disclosure Policy
for more info.
Why you should spend Christmas in France.
Christmas is a significant holiday in France, and many French Christmas traditions exist. So let's explore why you should spend Christmas in France.
Christkindelsmärik or Marché de l'enfant Jésus

.
Alsace is famous for its Christmas Markets. Strasbourg's Christmas market dating back to 1570, is the oldest in France and one of the oldest in Europe.
Many towns in Alsace have notable Christmas markets. The cities of Colmar and Mulhouse both have spectacular Christmas markets, the latter magically draped in the printed fabric for which it is famed. These famous Christmas markets open around November 25th.
There are Christmas markets throughout Alsace and in towns all over France. Some more famous include seven of the Christmas markets in Paris and three Christmas markets in Bordeaux.

La Magie de Noël (Paris)

Gare de l'Est (Paris)

Trocadéro Square (Paris)

Montparnasse (Paris)

Noisy le Grand (Paris)

Floating Christmas market (Bordeaux)
Le Réveillon de Noël. To celebrate Christmas in France, the Christmas meal is traditionally held late on December 24th, as people return from the midnight mass.
Fresh seafood, including oysters and scallops, smoked salmon, and foie gras, are eaten as starters.
The signature main dish is the Christmas turkey. However, goose, lobster, and more sophisticated fish such as monkfish, turbot, bass, and sole are also favored.
The characteristic dessert is the Yule log or Bûche de Noël.
There are many regional Christmas desserts, including the Thirteen Desserts of Provence, in memory of Jesus and his twelve apostles, the Bras de Gitan from Les Pyrénées-Orientales and Kougelhof from Alsace.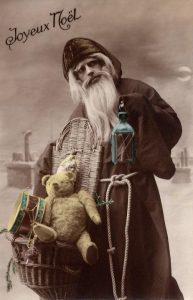 It is customary to exchange gifts at midnight amongst adults. Père Noël or Papa Noël visits the children on Christmas day. Traditionally the children have left their shoes by the fireplace filled with carrots and treats for Père Noël's donkey, Gui (French for "Mistletoe"). Père Noël takes the offerings and leaves small presents in their place if they have been good.
But things are changing, and many French families have their traditional Christmas meal on December 25th or earlier on the 24th.