Disclosure: This page may contain affiliate links.If you click on them we may earn a small commission.If subsequently you make a purchase, we might earn a little more.As an Amazon Associate we earn from qualifying purchases.There is no cost to you.see
Our Disclosure Policy
for more info.
La Règion GRAND EST.
La Région Grand Est has much to offer francophile visitors who wish to discover France.A glorious and diverse landscape, heaped with history,heritage, heroes and heroines.Sophisticated cities and peaceful country villages.Varied and distinct wines.Unique regional food, restaurants and accomodation.Charming and inspiring cultural events.Stirring or calming leisure activities.But most of all the people who live and work there understand L'art de vivre à la française.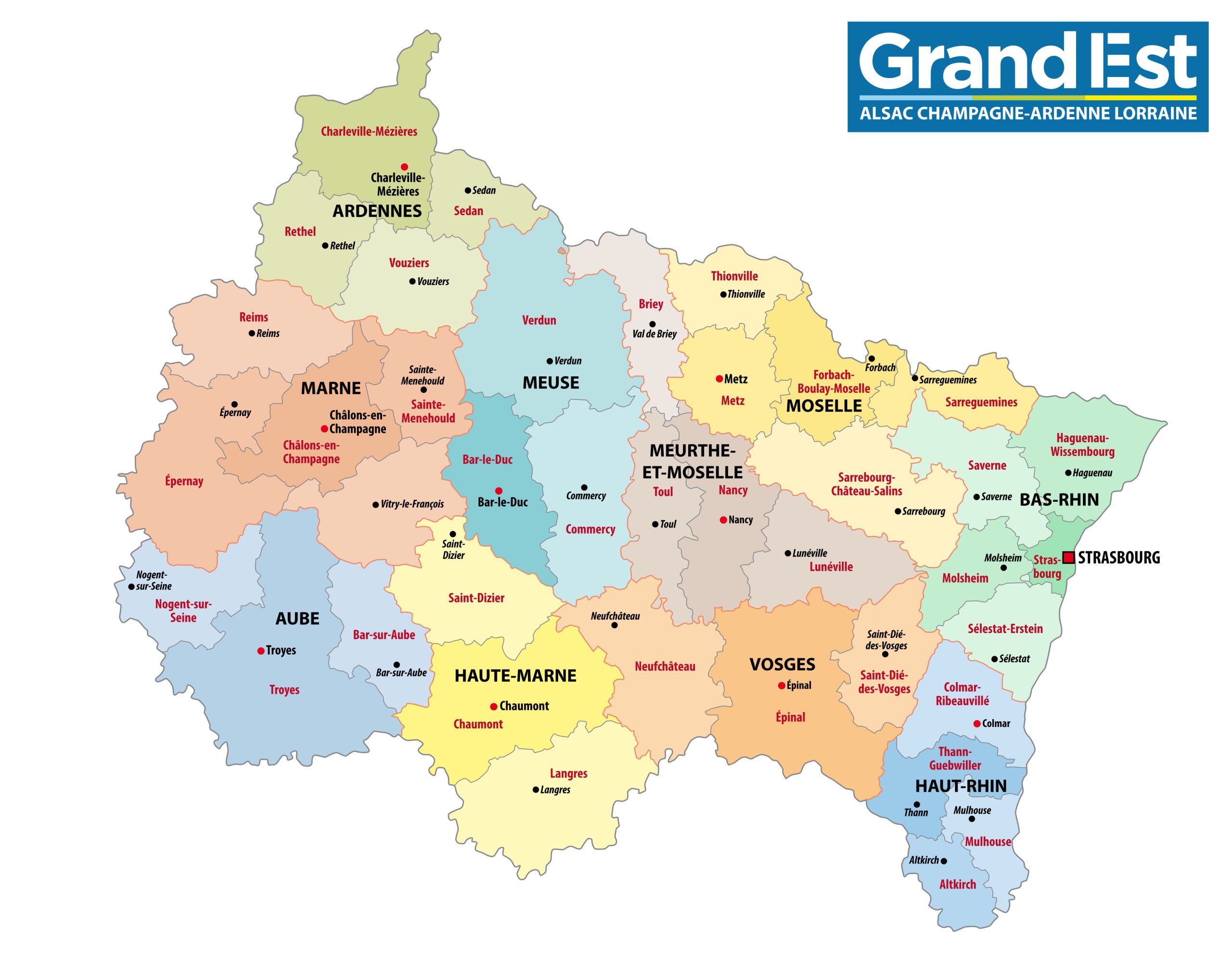 Departments
La région Grand Est comprend dix départements :Ardennes (08), Aube (10), Marne (51), Haute-Marne (52), Meurthe-et-Moselle (54), Meuse (55), Moselle (57), Bas-Rhin (67), Haut-Rhin (68), Vosges (88).
The creation of the region in 2014 merged Alsace, Lorraine and Champagne-Ardenne. In response to concerns from Alsatians the Government created the European Collectivity of Alsace merging the departments of Bas Rhin and Haut Rhin in 2021.

Regional Languages:
Grossa Oschta Alsatian: Grouss Osten Moselle Franconian/Luxembourgish: Groß Oschte Rhine Franconian: Großer Osten German.
It is the sixth largest region in France and is situated in the north east of the mainland.The prefecture and largest city is Strasbourg.
Grand Est borders four countries—Belgium (Wallonia region) and Luxembourg on the north, Germany on the east and northeast, and Switzerland on the southeast. It is the only French region to border more than two countries, or more countries than French regions.Within France it neighbours Bourgogne-Franche-Comté on the south, Île-de-France on the west, and Hauts-de-France on the northwest.
Grand Est has no coastline but is bordered on the east by the Rhine, which forms about half of the border with Germany. Other major rivers which flow through the region include the Meuse, Moselle, Marne, and Saône There are many lakes including lac de Gérardmer, lac de Longemer, lac de Retournemer, lac des Corbeaux, Lac de Bouzey, lac de Madine, l'Étang du Stock and lac de Pierre-Percée .
Grand Est's climate depends on the proximity of the sea. In Champagne and Western Lorraine, the climate is cool to mild winters and warm summers. But Ardennes, Moselle and Alsace climates are characterized by cold winters with frequent days below the freezing point, and hot summers, with many days with temperatures up to 32 °C.
Alsace Lorraine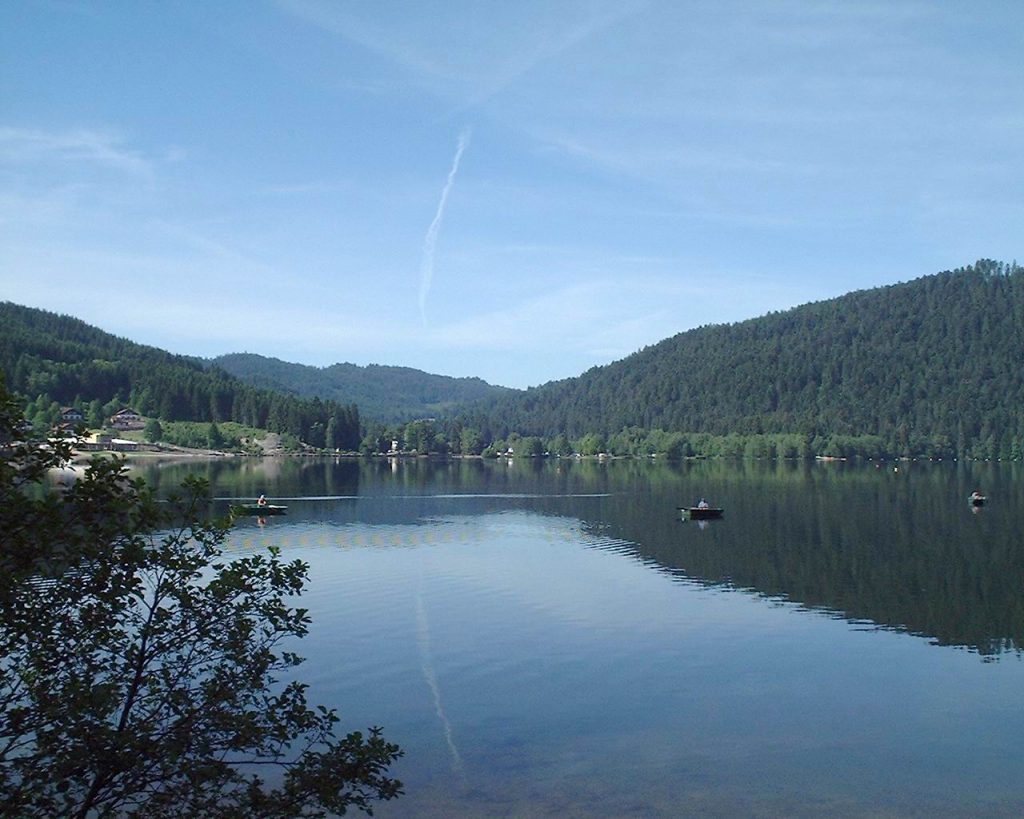 Lac de Gérardmer in the Vosges Mountains
The Massif des Vosges or the Vosges is a range of medium mountains which separate the Lorraine plateau from the plain of Alsace. Made up of sandstone and granite , they reach an altitude culminating at 1,424 meters at the Grand Ballon.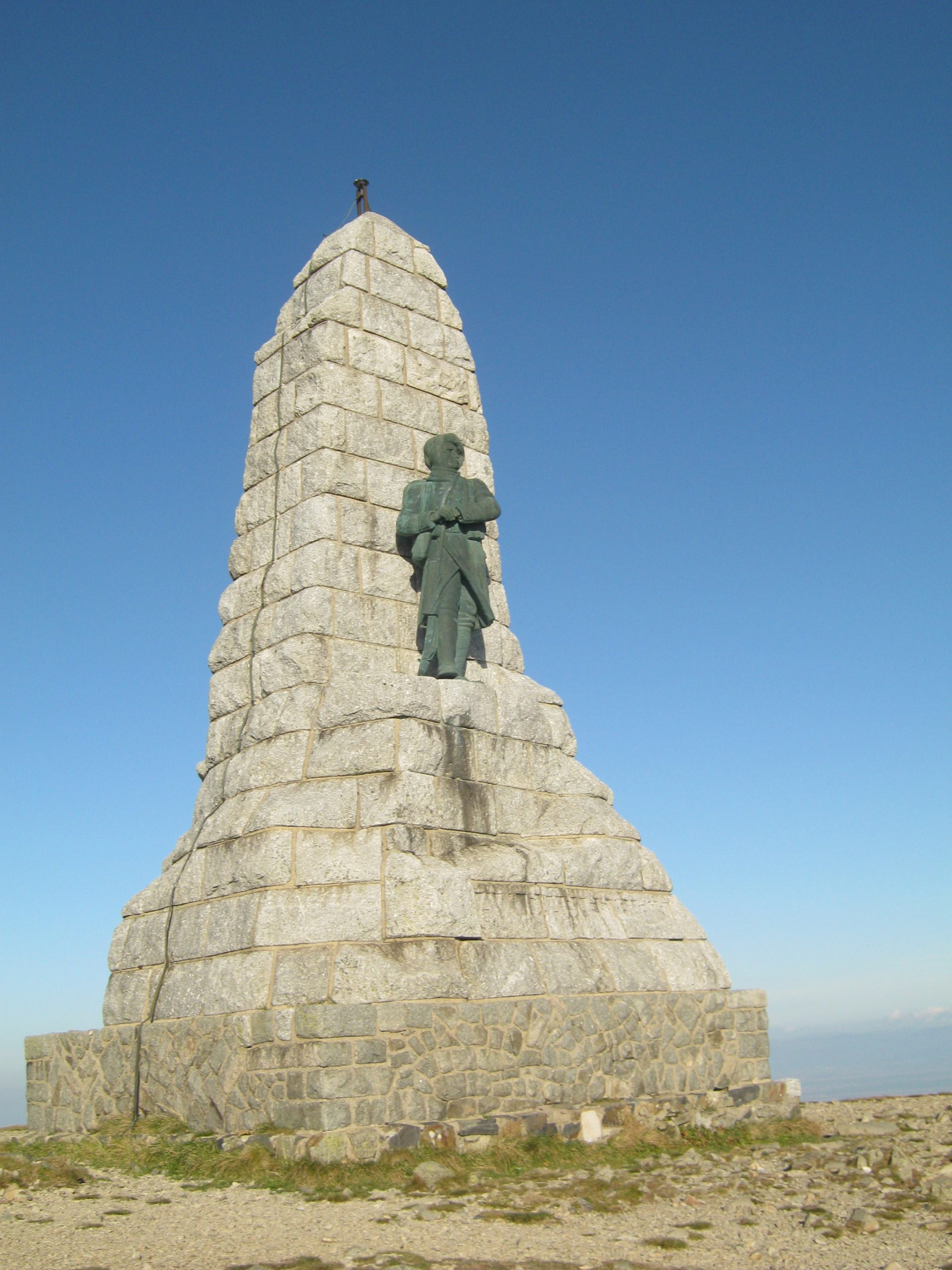 A monument at the summit of Le Grand Ballon to the Blue Devils of the First World War, the Alpine Hunters or Alpine Rangers.Erected in 1927 by sculptor André Vermare.Stripped of it's bronze statue during the German breakthrough in September 1940 and restored to it's original state in October 1960 by sculptor Pierre Bouret.
Champagne Ardenne
La forêt d'Ardenne ou forêt Ardennaise or Ardennes forest , is the name given since Antiquity to a vast primary forest straddling France in the North West of the region and Belgium and extending as far as Luxembourg and Germany.
Centered around Reims and Épernay is the world famous Champagne wine region.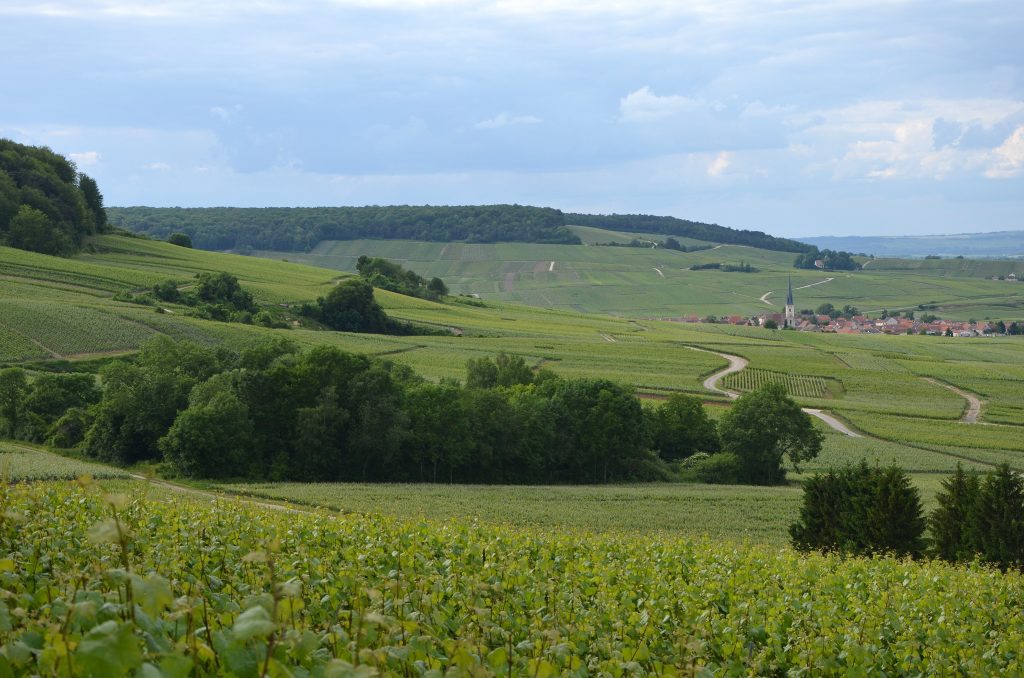 North flank of the Montagne de Reims looking towards Chamery