Disclosure: This page may contain affiliate links.If you click on them we may earn a small commission.If subsequently you make a purchase, we might earn a little more.As an Amazon Associate we earn from qualifying purchases.There is no cost to you.see
Our Disclosure Policy
for more info.
BORDEAUX TRAMS and TRAVEL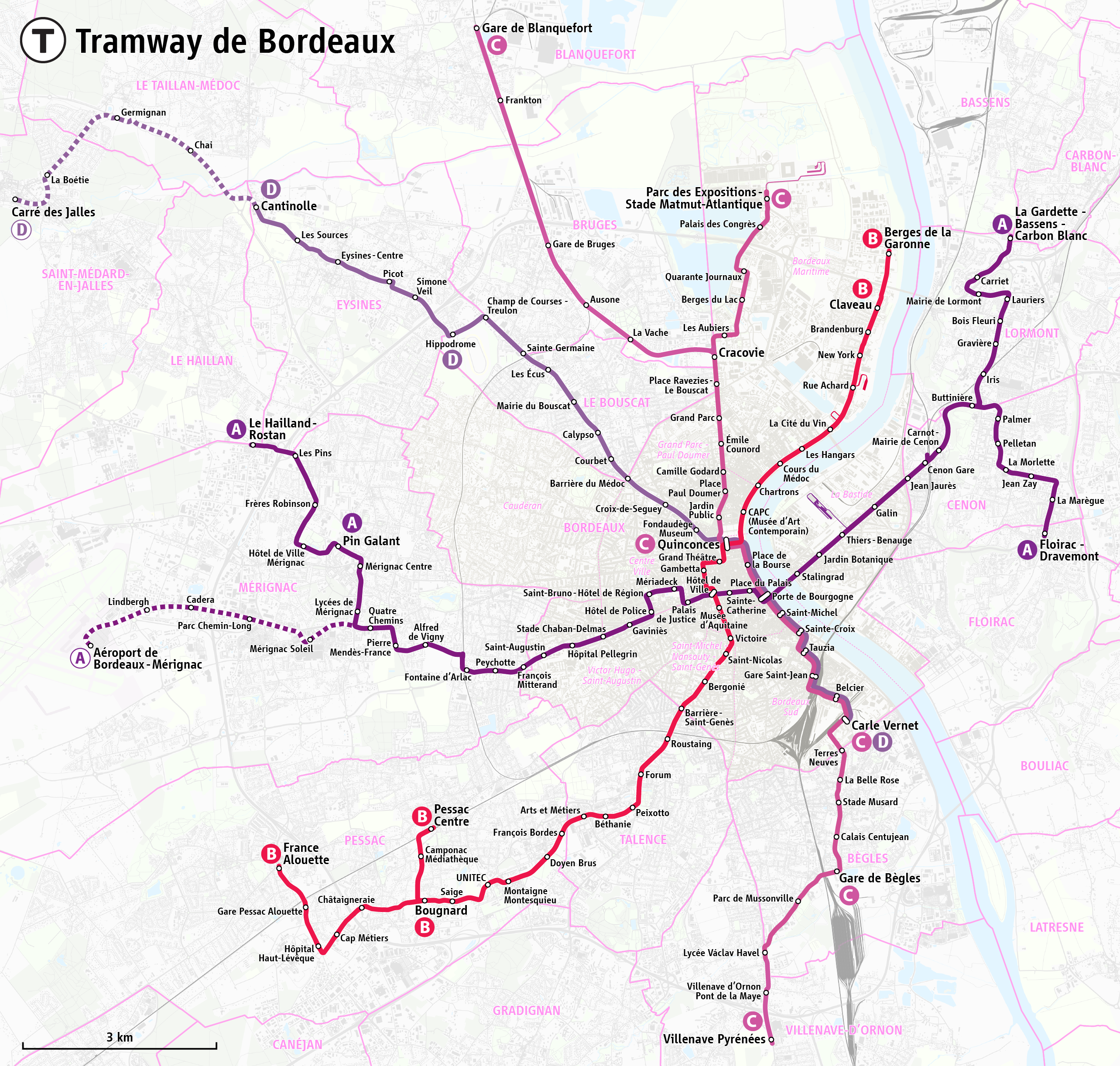 Transports Bordeaux Métropole.
Bordeaux's public transit system known as TBM (Transports Bordeaux Metropole) will get you around the city comfortably and economically on four tram lines (A, B , C and D), 80 city bus lines and the Bat³ boat service.
Timetable
The two catamarans (Hirondelle and Gondole) run every weekday from 7am to 7:30pm and 8:45am to 8pm on weekends and there are additional crossings on busy days and at rush hour.
Trams run from 5am to midnight, Sunday to Wednesday, and until 1am on Thursdays, Fridays and Saturdays (last departures from terminal). During the day, tram services run every 3 to 5 minutes and the rest of the time, trams run every 8 to 15 minutes.

Tickartes
TBM magnetic tickets are known as Tickartes and they are recommended for individuals who only travel on the network occasionally or people visiting Bordeaux for a short period.
Fare tickets can be bought from machines at tram stations.
There are five ticket offices:Gambetta,Quinonces,Gare Saint-Jean,Buttinière and Arts et Métiers.
Tarif
Le ticket 1 voyage -> 1,70€
Le ticket 2 voyages -> 3€
Le ticket 10 voyages -> 13,70€
These tickets can be RECHARGED up to 10 times with their corresponding amount of trips . To top up your ticket, go to the ticket distributors at tram stations, or at one of the 5 ticket offices .
You cannot buy your tickets directly on the the trams.
You can buy 1 and 2 voyage Tickcartes directly from a bus driver and are they are also sold on board the Bat³ catamarans by crew members(single journeyTickarte : 2€).
These tickets offer unlimited travel on Bat3 services as well as on TBM trams and buses for one hour.
PAYING FOR JOURNEY
VALIDATE your ticket on the white validators each time you get into a vehicle, even when connecting. All you have to do is bring your ticket closer to the validator's target in order to validate it without contact.
Validation is mandatory each time you board the Bus, Tram or BAT3.
To know your travel balance, observe the validator screen at the time of your validation. You can also consult this information at ticket distributors and in our sales offices!
USING YOUR PHONE
Opt for the TBM m-ticket available on the "Witick" app on Google play store or apple store
It is Simple and fast:
Download the free TBM m-ticket app "Witick"

Register (email address and password)

Choose a ticket: 1, 2, 10 trips or 1, 7 days (full fare only)

Pay with credit or debit card

Validate with Bluetooth every time you move (even when connecting) on ​​a tram, bus and Bat³ line by approaching your phone to the validator target.

In case of ticket inspection, you will need to present the QR Code generated automatically by the application. Make sure you always keep a good battery level!